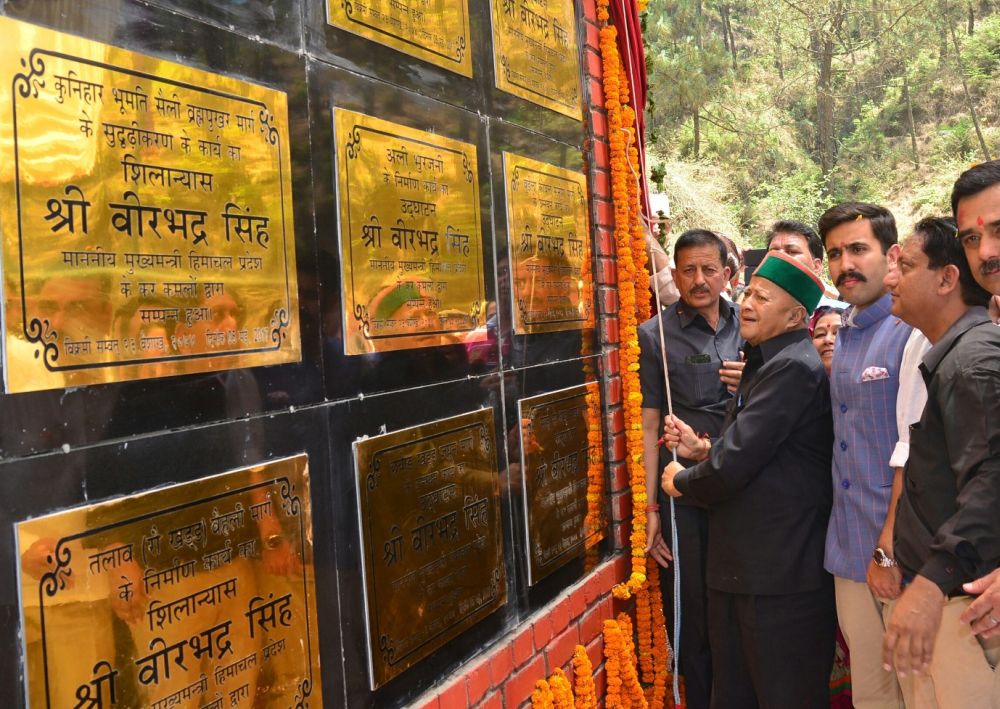 Arki: Chief Minister Virbhadra Singh today dedicated various development projects and laid foundation stones of projects worth around Rs. 65 crore in Arki constituency of Solan district.
He inaugurated the additional block of government senior secondary school Lagdaghat completed with an outlay of Rs. 28.62 lakhs, upgraded GSSS Patta Panjal and newly upgraded GSSS Gharyach and Government High School (GHS) Jobri.
He also inaugurated the newly constructed building of GSS Patta Panjal completed with a cost of Rs 40 lakh.
The Chief Minister inaugurated Jai Nagar-Ukkhu via Baddal, Sunali-Rug road on which an amount of Rs 40.25 lakh has been spent, Sai to Ukkhu road completed with an outlay of Rs.1.75 crore, Cheod Khad-Jaghoon road completed with a sum of Rs. 6.36 crore and Buila-Koyal Sanog road constructed with an outlay of Rs. 7.14 crore.
He also inaugurated augmentation of lift water supply scheme Gambhar to Sai completed with an outlay of Rs. 50.10 lakh, which will benefit six habitations of the area with a population of around 1100. He also performed Puja of the newly constructed helipad at Balera.
The Chief Minister laid foundation stones of Kunihar-Bhumti-Saili-Braham-Pukkar road to cost of Rs21 crore, Kiari-Saili road to cost Rs. 3.10 crore, Hardevpura-Bawan to cost of Rs. 3.42 crore, Talab( Rau Khad) –Behli road to cost of Rs 1.50 crore and Bhumti-Surajpur road to be constructed at a cost of Rs 11.25 crore.
Virbhadra Singh announced opening of Degree College at Jai Nagar, Industrial Training Institute (ITI) at Gram Panchayat Balera and another ITI at Saur of Saur Panchayat in Arki constituency of Solan District. He also announced construction of playground at Balera near Balera Helipad.
The Chief Minister announced Ayurvedic dispensary at Manjyat in GP Dewra and an Ayurvedic dispensary at Sheel-Ghat. He also announced opening of Primary Health Centre at Bhiunkhry at Saryanj, forest gang hut at Balera, Malaun and Bhumti Dadal. He announced construction of Water supply scheme from Gambhar Khud to Sanog-Bughar and upgradation of GPS Palyad to Middle School. He announced playground at Panjal in GP Lag and announced upgradation of GHS Manlog-Kala to GSSS.
State Youth Congress President Vikramaditya Singh, Secretary HPCC Sanjay Awasthi, Chairperson State Women Welfare Commission Jeneb Chandel, were also present on the occasion amongst others.