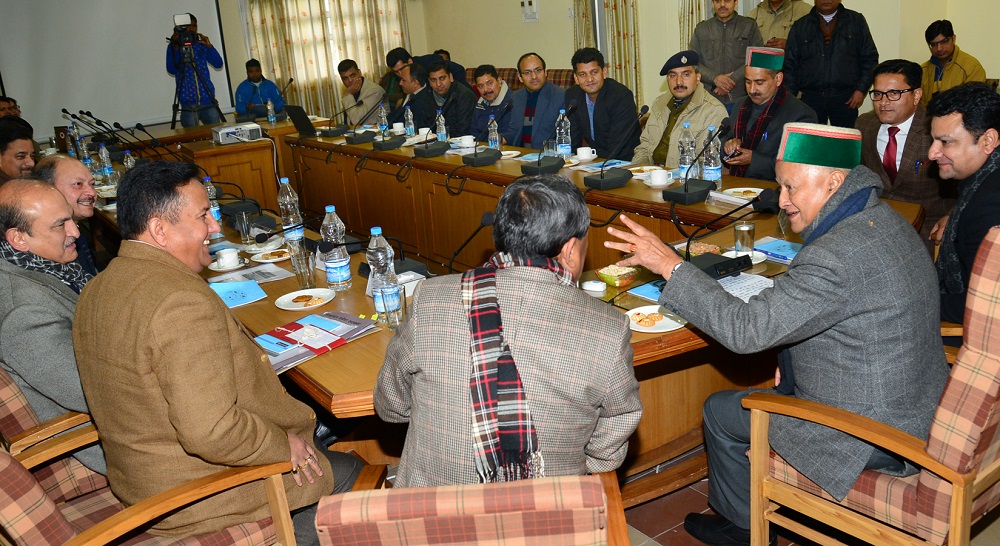 Kangra district become the first district in the country in Geo Tagging of assets under MGNREGA. The Geo Tagging makes use of GPS based location information through mobile app 'Bhuvan' on Bhuvan Geoportal.
The Kangra district spend Rs.81.1 crores against the total budget of Rs.100.56 crores upto January this year generating 25, 89,912 mandays. A total of 97.70 per cent job cards were verified and in the maintenance of 7 new registers the achievement was 100 per cent under MGNREGA.
Chief Minister Virbhadra Singh today honoured all the Rural Development Officers including the Block Development Officer (BDOs) of Kangra district for achieving 100 per cent Geo Tagging of assets under MGNREGA.
He expressed happiness over the achievement of Kangra district. He said that though Kangra district was the largest district of the state but the leadership and team work of the Rural Development Officers paved the way for becoming the first district in the country in Geo Tagging.
Virbhadra Singh said that no prejudice should come into play and the execution of development works should be people orientated and not politics driven. He said it was a wonderful achievement but continuous vigil should be maintained so that the development and progress of all MGNREGA works could be ensured.
Earlier, Deputy Commissioner, Kangra CP Verma briefed about the feat of Kangra district achieving 100 per cent target in geo tagging of Assets under MGNREGA. He said that there were 3,253 villages under 748 gram pachayats in the district.
Deputy Director-cum-Project Officer, D.R.D.A, Kangra district Munish Sharma detailed about the Geo Tagging project through a video presentation. He said that Bhuvanapp was needed to be loaded in the Android Phone for geo tagging of assets MGNREGA.
Urban Development Minister Sudhir Sharma, Chief Secretary V.C. Pharka, Additional Chief Secretaries Tarun Shridhar and Dr. Shrikant Baldi, Secretary, Rural Development Onkar Sharma were also present on the occasion.