With capital Shimla on the top, Manali, Dharamsala, and most of the popular towns of North-Indian State of Himachal Pradesh are eventually falling in the trap of unplanned and unregulated urbanization. Himachal's political sphere is crowded with only two major parties, BJP and Congress, taking turn to govern the state. However, during last decade speaks of bitter truth that indecisiveness, favoritism to influential people, and growing corruption in governing bodies have brought the State in a position where the government itself is compelled to take decisions that goes against existing laws. Approval to amend existing laws to relax owners of illegal structures by charging nominal fee poses critical questions regarding intentions and vision of the political leaders in power.
HP Assembly Himachal Pradesh Town and Country Planning (Amendment Bill) 2016
Recently, HP Assembly passed Himachal Pradesh Town and Country Planning (Amendment Bill) 2016 to regularize irregular structures including residential and commercial within limits of Municipal Corporation and rural regions on "as is where is" basis. The government has decided to dilute existing norms and provide for regularization of building raised without any sanctioned plant on nominal charges. A debate has erupted after this decision as it mocks at honest people, who followed every rule and regulation to construct their structures. Even the High Court has taken notice and lashed the state government of encouraging violators by relaxing them for trivial fees.
Himachal High Court Lashes State Govt
Himachal Pradesh High Court has termed move of the state to regularize the unauthorized construction and encroachment suggestive of non-governance and failure of constitutional mechanism. The haphazard unauthorized construction encouraged all over Himachal would pose a grave threat to the life and property in case of earthquake of severe magnitude. The high-rise buildings would cause tremendous damage to the adjoining buildings, said a bench comprising of Justice Rajiv Sharma and Justice Sureshwar Thakur.
Reason Given For Regularization
According to Town and Country Planning Minister Sudhir Sharma, the step was taken to regularize over 25,000 unauthorized structures in the State because mass demolition is not practical. It is noticeable that government had introduced retention policy as many as on six occasions. Every time government faced criticism from the High Court, and to solve it, the bill was introduced and passed.
Compounding Fee Slashed to Almost Half
Further, as if allowing illegal structures to grow for years and introducing retention policies time to time to regularize illegal structures were not enough, the nominal compounding fee is slashed to half in the ordinance. The violators will have to pay the government at flat rate of Rs 800 per sq meters in Municipal areas and Rs 400 per sq meters in rural areas.
As per the amendment, even completely illegal structures which were built without no plan at all will be regularize on payment of compounding fee of Rs 1200 per sq mts in urban area and Rs. 600 per sq meter in rural regions.
It will lead to regularization of buildings worth crores with a fee of few thousands rupees. These fees will be doubled in case of commercial structures.
There is even a provision of further grace period of applying for regularization.
Illegal and Excess Construction in Seismic Zone IV & V Not Wise
The decision isn't a matter of honesty or corruption, but it also put lives that rampart construction of irregular buildings in already crowded towns put at risk in case of natural disasters. Many districts like Chamba, Kullu, Mandi, Bilaspur, Shimla etc. comes under seismic zone IV and V – severest intensity quakes. Researchers have been warning of due earthquakes of sever intensity in the Himalayan belt, and series of low-intensity quakes in Kullu and Rampur recently confirmed the prediction. Considering unplanned and unsafe construction in Shimla town, the buildings will stash like pack of cards, leaving lakhs of people dead within seconds.
Rescue operation in case of natural disaster becomes a challenge as most of the parts will not be accessible through roads. Even the IGMC Hospital buildings are in high risk zone. There will be no place for injured. Illegal structures also risk other adjacent legal construction.
Landslides in Monsoon
Building a structure on a slope more than 45 degree in hilly regions of Shimla is clear invitation for trouble not only in times of quakes, but also due to frequent landslides in monsoon. Unplanned, illegal structures have evolved even at most risky locations increases vulnerability of the slops for landslides. During past couple of months, collapse of multi-story buildings like in Dhali and Hatkoti aptly demonstrate the potential risk to life of people along with property. Collapse of building in Hatkoti had caused four causalities and left many injured. Surprisingly, reports said the entire building was constructed illegally on encroached land without approval of plan.
The culture of introducing retention policies for regularization of illegal structures sound like allowing violation of laws by imposing little fee. Those who can afford it will avail the service. Apparently, gross negligence, corruption prevailing at various administrative levels and politics of favoritism has collectively allowed over-construction of illegal structures over the year. The structures did not evolve overnight. Both the government and violators have put lives of people at risk while being aware of the consequences.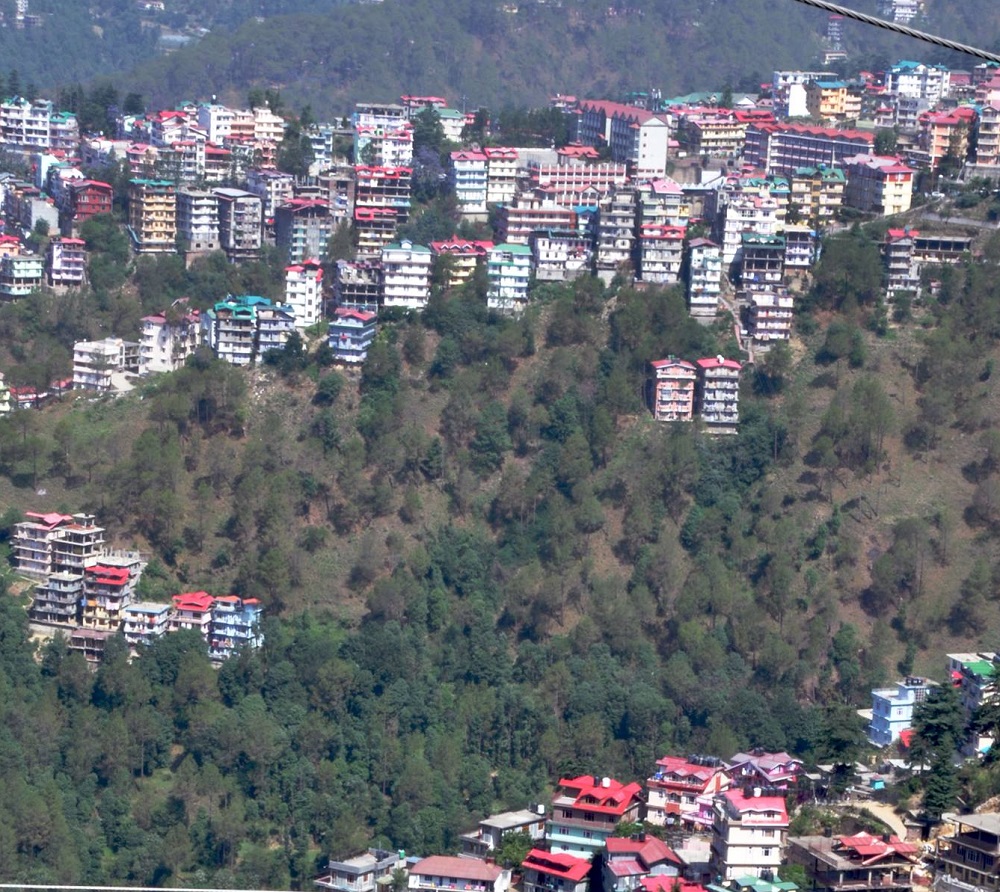 Photo: Manjit Singh