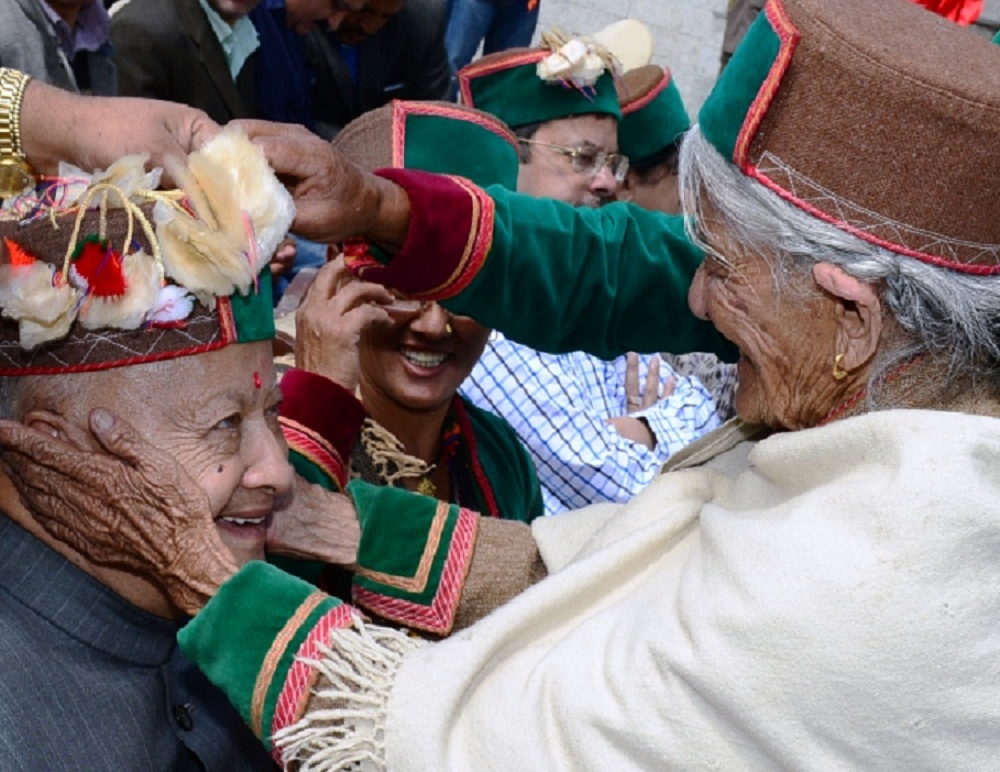 Chitkul: Himachal Pradesh Chief Minister Virbhadra Singh today performed Bhoomi Pujan to upgrade and construction of strategically important Chitkul-Dumti road.
The Chief Minister, who is on three-day tour to the tribal district of Kinnaur, said the road would be of great help to the armed forces, especially the army and Indo-Tibet Border Police (ITBP) which has more than 20 posts along the border. The ITBP have their front posts at Dumti towards the China border. To be constructed at a cost of Rs. 44.24 crore, around 20 kilometres of the road length is complete passing through Rani-Kanda.
While addressing a public meeting at Chitkul, he said that Himachal Pradesh shares 220 km of the international border with China and around 140 kms length was along the Kinnaur district, while 80 km of border falls in tribal Lahaul and Spiti district.
Expressing concern over the delay of work on Rakchham-Chitkul road, the Chief Minister directed for re-tendering of the work. He said that the work on Dumti road be given to such a contractor who could finish the work well in time. He also caution erring contractors to be blacklisted.
The Chief Minister said that the government was more concerned about strengthening the border roads so that the armed forces could be placed at better position in times of exigency. He said that similarly, the work on 20 kilometres of road from Thangi to Kunnu -Charang was also in progress and so far 14 kilometres of road had been completed and a sum of Rs 28 crore was being spent on it and the remaining six kilometres would be completed by end of December. Another road from Kota to Dogri was also also under construction , he said adding the road till Dogri was being constructed with a provision of Rs 12.50 crore and would benefit the army and the ITBP. These roads will help increase the mobility of the forces which can better keep vigil on the International Border with China.
Virbhadra Singh said the road had already been constructed till Shipki-La bordering China. The State government was time and again taking up the matter with the Union Government for laying Bilaspur-Bhanupalli-Bilaspur-Leh rail line through mid of lower Himachal, which would be of great strategic importance and besides helping the Indian army, it would also boost the tourism activities.