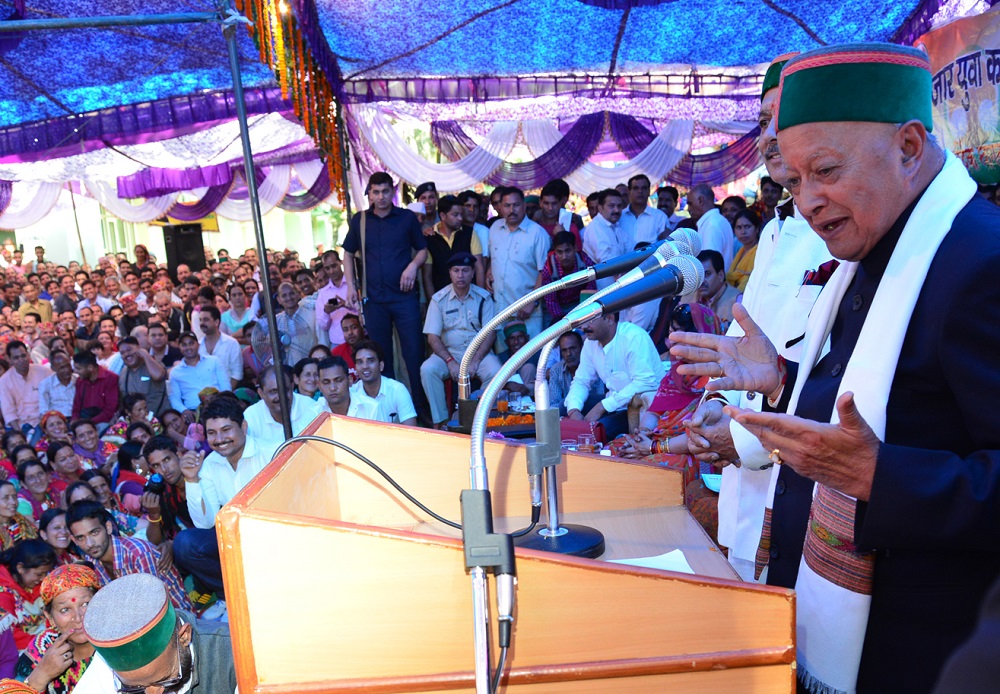 Banjar: Himachal Pradesh Chief Minister Virbhadra Singh said that an amount of Rs. 773 crore had been spent on various water supply schemes during this period. Singh, while speaking at a public meeting at Banjar, in Kullu district today, said that as many as 6,949 additional habitations have been covered under rural water supply schemes and 4,887 hand pumps have been installed in water scarcity areas during last 45 months, adding that an area of 10,586 hectare has been provided irrigation facility at a cost of Rs. 400 crore.
Virbhadra Singh reiterated his government commitment for the overall development of the state. He said that all the habitations of the State had been electrified and as of now we have received 100 percent electrification and the credit goes to the successive Congress Governments.
Irrigation and Public Health Minister Vidya Stokes said that Government was spending a sum of Rs 2292 crore on drinking water supply and irrigation schemes in the state during current fiscal. She said that a sum of Rs 35 crore was being spent for installing hand-pumps in dry belts of the State.
Stokes said that the State Government has launched World Bank funded "Himachal Pradesh Horticulture Development Project" with an outlay of Rs. 1,115 crore for strengthening horticulture sector. She added that ten Market Yards/Collection Centres have been established during this period by spending an amount of Rs. 27.45 crore. She said that in order to protect fruit crops, especially apple from hailstorms, the Government has enhanced the subsidy on anti-hail nets to 80 percent.
Ayurveda Minister Karan Singh earlier welcomed the Chief Minister on the occasion and honoured him. He said that at present, work on 42 drinking water supply schemes was under progress in Banjar on which a sum of Rs 41.33 crore was being spent and a target of installing 26 hand-pumps has been fixed for 2016-17. In addition to this work on five irrigation schemes was also in progress on which an amount of rupees six crore was being spent and a sum of Rs 1.18 crore would be spent on these in financial year 2016-17. He said that till 31st March 2016, as many as 3582 habitations had been provided drinking water.
The Chief Minister earlier inaugurated the combined building complex at Banjar completed with an outlay of Rs 5.60 crore housing all the offices under one roof, constructed by HIMUDA and also inaugurated Police Station office building completed with a cost of Rs 1.07 crore.
He also laid foundation stone of Rs 5.17 crore Sewerage Scheme for Banjar town, foundation stone of augmentation of Rs 1.97 crore Water Supply Scheme Dhoru-Ropa-Sharai-Tandi-Chethar. The scheme will benefit a population of more than 2500 and foundation stone of up-gradation and augmentation of Water Supply Scheme Naglari to Gushiani at Banjar to cost Rs 1.06 crore to benefit population of 2535.