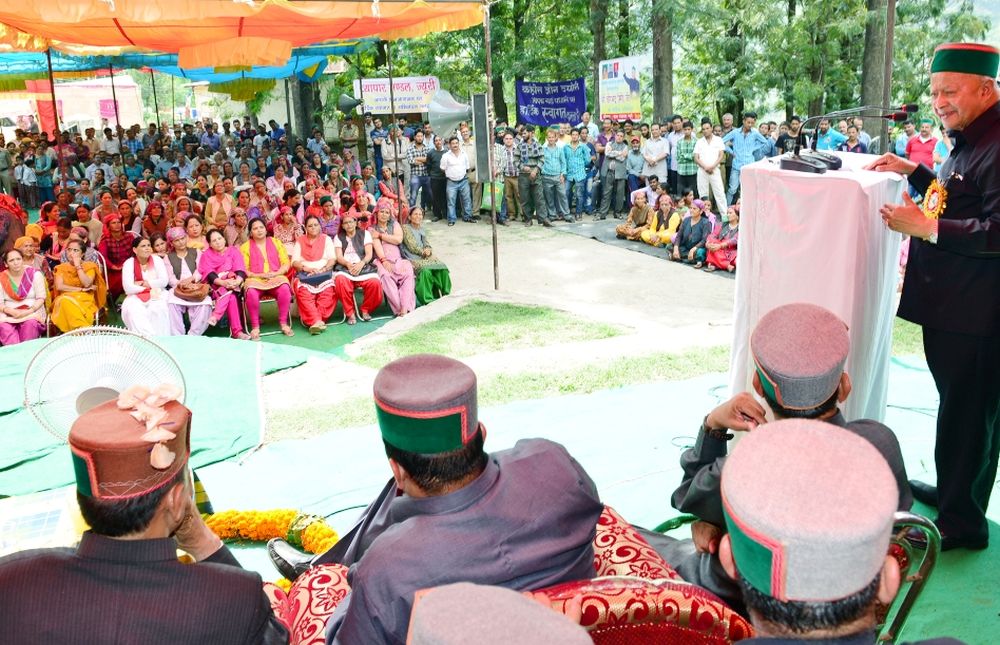 Chief Minister Virbhadra Singh cautioned education departments and directed to take strict action against teachers who don't join remote and far flung areas for duty.
The Chief Minister urged the young teachers to serve in remote and far flung areas as the people needed their services. He said that it was also a fact that the teachers who serve in such areas were held in high esteem and respected by people.
Chief Minister was addressing a public meeting at Samej in Pandra-Beesh area of Shimla district after inaugurating Primary Health Centre Building at Samej completed with an outlay of Rs 83 lakh.
He said that he was well acquainted with Pandra-Beesh region and even those times when there were no roads, he had visited each and every village of this area. He also announced inauguration of newly constructed building of senior secondary school, Samej and directed to raise a boundary wall around the school.
Chief Minister directed the concerned PWD authorities to prepare the estimate regarding beautification of Nau-Nag lake at Sarpara in Pandra –Beesh. The Government will provide adequate finances for this, he assured. He also directed to find an alternative to connect Samej with Fancha and Ghanvi and to widen the forest road from Samej to Fancha via Sarpara.
Virbhadra Singh also reiterated the need of preservation of culture and customs and said that the younger generations should not feel ashamed to speak in their own language.
Earlier, the Chief Minister inaugurated 22 KV HPSEBL Sub-station at Jeori constructed at a cost of Rs. 1.61 crore along with Agriculture and MPP & Power Minister, Sujan Singh Pathania. This would benefit as many as six panchayats of Pandhra-Beesh and other such hard areas benefitting a population of around 17 thousand. The Chief Minister also inaugurated PHC Ghanvi constructed with an outlay Rs.83.17 lakh.
He laid foundation stones of 22 KV HPSEBL Sub-station at Khaneri to be constructed at a cost of Rs. 1.77 crore, which would benefit 20 villages of five panchayats with a population of 75 thousand people, GWSS group of villages Gram Panchayat Badhal, Jeori and Shahdhar at Jeori to be constructed at a cost of Rs 2.18 crore to cover six habitations of the area namely Dharali, Nainee, Kotla, New Kotla, Tayal and Bathara having a population of 7400, Primary Health Centre Fancha to be constructed at a cost Rs. 78.22 lakhs, remodelling of Flow Irrigation Scheme (FIS) Dwarcha Bathara at Bathara in Gram Panchayat Sarahan amounting to Rs 2.88 crore which will help cultivate around 197 hectares of land, Bridge over Rai Khad on Rampur-Gaura-Mashnoo-Sarahan-Jeori road to cost Rs. 5.54 crore, and A.E. Office of HPSEBL at Kalay (Sarahan) to be constructed at a cost of Rs. 35 lakhs.
Chief Parliamentary Secretary Nand Lal, Deputy Commissioner Rohan Thakur, SP D.W. Negi, Chief Engineer, Ashok Chauhan, and Panchayat Representatives from nearby areas were also present on the occasion amongst others.