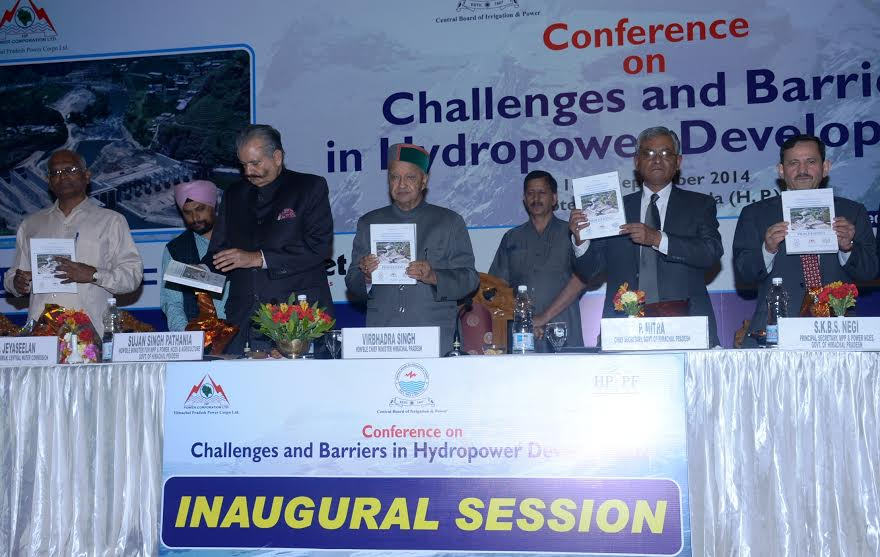 To ease the process for construction of hydel projects in Himachal Pradesh, the HP Government has relaxed the norms for the developers and investors as far as issuing of no objection certificates and land acquisition procedure is concerned.
This was stated by Chief Minister Virbhadra Singh while addressing two-day long conference on 'Challenges and Barriers' in Hydro Power Development in Hotel Peterhoff, here today.
He further added that for the socio-economical upliftment of the project affected families the State Government has approved its Hydro Policy, 2006 and special provision has been made for rehabilitation and resettlement plans.
The Government had decided that the power producers would not be required to take no-objection certificate from the department of IPH, PWD, Revenue and Fisheries department in the State for setting up the Hydel power projects, he said.
Hydro power is one of the biggest revenue generator adding that local committees had been formed and the local people were also being consulted before commissioning the project, besides, Local Area Development Fund (LADA) had been set up for the development of the project affected areas, said the Chief Minister. Adequate compensation and funds for social and other developments activities was also being ensured, he added.
CM said that India's power sector faces lot of challenges such as poor infrastructure, high costs of production of electricity harnessed from coal, shortage of natural Gas and scant availability of nuclear resources.
Chief Minister also released a souvenir on the occasion.
MPP and Power Minister Sujan Singh Pathania while speaking on the occasion informed that the State Government had constituted the HP Power Corporation with the objective of enhancing the existing hydel potential and explore more possibilities of inviting the investors by providing several sops to them.
Earlier, Devendra K. Sharma Managing Director, H.P. Power Corporation Limited welcomed the Chief Minister and detailed about the development in hydro power sector in Himachal Pradesh.
R. Jeyaseelan, Former Chairman, Central Water Commission, V.K. Kanjlia, Secretary, Central Board of Irrigation and Power, Ravi Thakur, MLA, P. Mitra Chief Secretary, S.K.B.S Negi, Principal Secretary MPP and Power, Masood Hussain, Director General, National Water Development Agency, HK Paliwal, Former Chief Secretary, Government of Arunachal Pradesh and other delegates from various organisations, promoters and developers from Hydro Power Sectors, were present on the occasion.