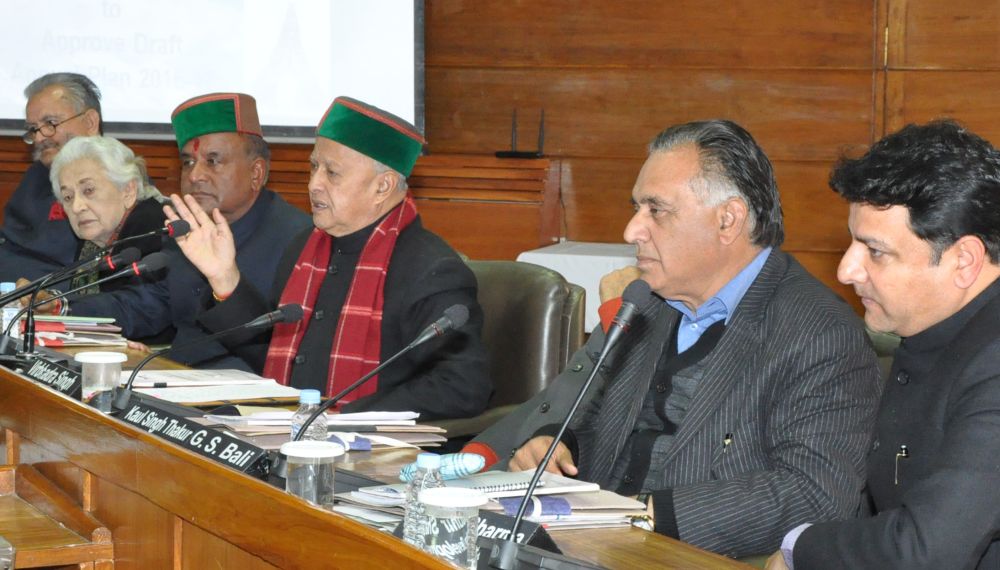 Shimla: The State Government has approved annual plan outlay of Rs. 5200 crore for the year 2016-17 which is 8.33 percent higher than the size of Annual Plan of 2015-16.
Out of total annual plan, Rs. 1309.88, i.e. 25.19 percent of the Annual Plan size, have been approved for the Schedule Castes Sub-Plan, and 9 percent of funds amounting to Rs. 468 crore have been provided for the Tribal Area sub-plan. An outlay of Rs. 65 crore have been approved under development heads of agriculture, horticulture, animal husbandry, forestry, irrigation, roads, education and health etc.
The Chief Minister, Virbhadra Singh, in the meeting of State Planning Board today, said the social service sector has been given priority in the Annual Plan 2016-17 and an allocation of Rs. 1992 crore has been proposed for this vital sector, which is 38.31 percent of the plan size.
A sum of Rs. 979.04 crore has been proposed for transport and communication services, which is 18.83 percent of the Annual Plan size.
Energy sector has been allocated Rs. 683 crore (which is 13.13 percent of plan size) which includes loan and equity to Asian Development Bank (ADB) assisted projects implemented by State Power Corporation limited and HP Power Transmission Corporation limited.
For agriculture and allied sectors annual plan proposes a sum of Rs. 586 crore which is 11.26 percent of the plan size. This mainly consists of externally aided projects and the schemes which fall under Rashtriya Krishi Vikas Yojna (RKVY).
The Chief Minister said that the State government was endeavouring to bring more people between the age groups of 15 to 45 years under the ambit of Skill Development Scheme and a sum of Rs. 640 crore had been approved by Government of India (GoI).
Virbhadra Singh also rued of not receiving a sum of Rs. 3000 crore from Government of India under normal and special central assistance and Special Plan Assistance.
Cabinet Ministers, Chief Parliamentary Secretaries, legislatures, Chairmen and Vice-Chairmen of various boards and corporations were also present amongst the senior officers of the state government.