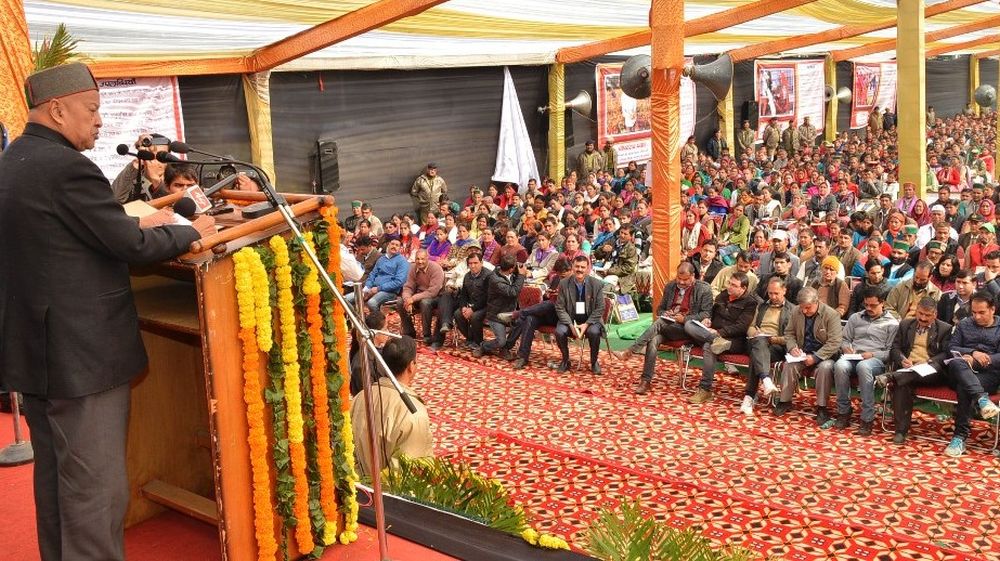 Chief Minister Virbhadra Singh today administered the oath to the newly elected Pradhans and Up-Pradhans of Mandi, Hamirpur, Bilaspur and Kullu districts in an ceremony organized at Paddal ground in Mandi.
The Chief Minister congratulated elected representatives and said that Rs. 195.39 crore would be released to the panchayats as per the recommendation of the 14thFinance Commission during this financial year and first installment of Rs. 97.70 crore had already been released.
Virbhadra Singh said that PRIs were playing an important role in ensuring overall development and welfare of the people at village level.
He said that State government had empowered these institutions by delegating various powers so that the purpose of the development could be achieved in a real sense.
He said that with the decentralization of the powers to the PRIs, the grass root level units of democracy were emerging most powerful and they needed to act judiciously and treat every member of their panchayat uniformly by rising above all consideration.
Panchayati Raj and Rural Development Minister Anil Sharma said that State government considers these institutions as a strong unit of local governance and they had emerged as an important institution for implementation of various developmental programmes. He stressed that the representatives of PRIs should have proper knowledge of Panchayati Raj Act, Rules and various schemes besides understanding the basic principles of engineering so that they could share the responsibility in an efficient manner.
Secretary, Rural Development and Panchayati Raj Onkar Sharma proposed the vote of thanks.
Cabinet Ministers, CPSs, Chairmen and Vice-Chairmen of various board and corporations, MLA Maheshwar Singh, Deputy Commissioner Sandeep Kadam, SP Prem Kumar Thakur, Director I&PR Dr. M.P. Sood, Director Panchayat Raj M.S. Thakur, office bearer of various organizations, senior officers of the State Government and other prominent people were also present on the occasion.