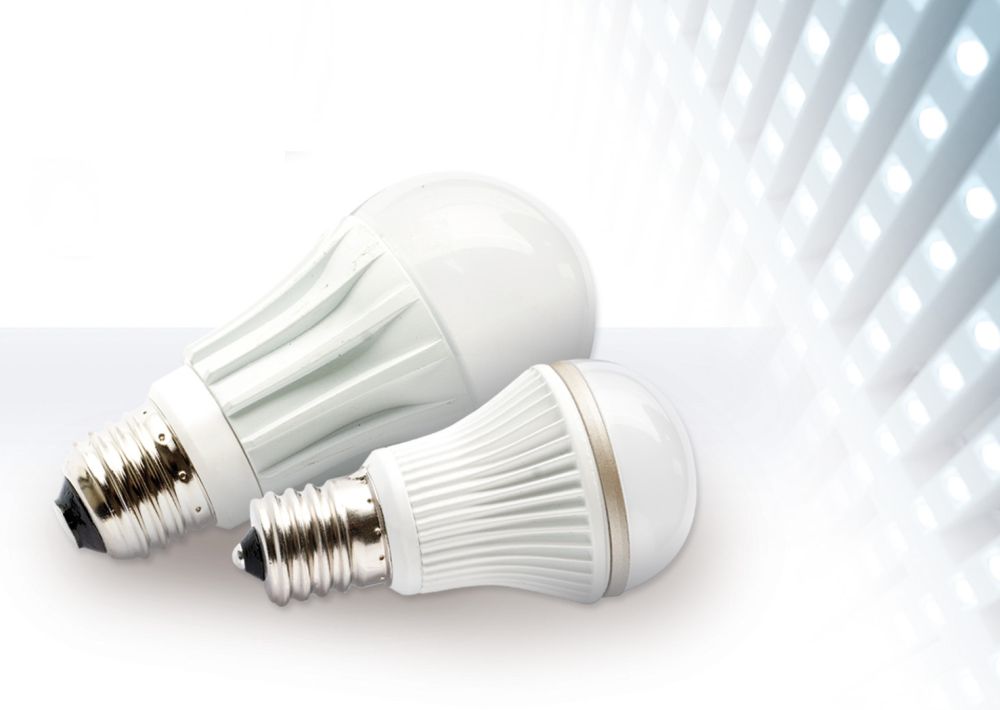 LED bulbs are slowly but steadily making inroads in middle class families. Special stalls were pitched recently in the government offices complex in New Delhi and people, flaunted ID proof and latest power bill, to purchase LED bulbs at a highly subsidised price. "For us LED bulbs are simple mathematics. They save money on power bill, and it should be made freely available in markets if the government is serious in energy conservation", said Ramadheen, a staff member in one of the offices in nearby buildings while watching brisk sale of bulbs. Informatively, 77 crore incandescent bulbs were sold in 2013-14 which if replaced by LEDs will result in reduction of 20,000 MW load and energy savings of 100 billion kWh (Kilowatt hour) every year. Total saving in electricity bills of consumers will be Rs 40,000 crore every year, considering average tariff of Rs 4 per kWh. Average reduction of electricity bill of consumers is pegged at Rs160-400 per year per LED (light emitting diode).
Prime Minister Narendra Modi had launched LED based home and street lighting programme on January 5 this year. The plan envisages to cover 100 cities by March next year and balance by March 2019, targeting 77 crore ordinary bulbs and 3.5 crore conventional street lights. There are 3.5 crore street lights in the country with a load of 3,400 MW which can be reduced to 1,400 MW by replacing conventional lights with LED based street lights which could lead to saving of about 9,000 million units annually worth Rs 5,500 crore to municipalities annually.
Now 100 cities have been taken up for coverage under street lighting programme (SLP) and domestic Lighting Programme (DELP). According to official sources, the action plan has been drawn after deliberations with all stakeholders and a set of concrete activities to enhance the energy savings from the current level of 6 per cent to 10 per cent by 2018, implying doubling of the energy savings from about 60 billion kWh in 2014 to 122 billion kWh in 2018. Narendra Modi, launching the programme, described the LED bulb as a "Prakash Path–way to light."
The scheme for LED bulb distribution is part of the domestic efficient lighting programme in Delhi; and a National Programme for LED-based Home and Street Lighting. Coming in the way were high price of LED, insufficient availability and lack of awareness. The service model devised stipulates there is no need for upfront capital investments by ULBs ( urban local bodies ).The cost recovery will be done in installments over seven years for ULBs and 8-12 months for domestic consumers.
As many as 186 cities have been enrolled in the DELP programme. Work has been completed in some places in Andhra Pradesh (Guntur, Anantpur, Srikakulam, West Godavari) and Puducherry. About one crore LEDs have been distributed. Distribution is in progress in Delhi, Jaipur, Ajmer, Jodhpur, Thane, Mulund, Bhandup, Ratnagiri, Kanpur and Varanasi. Agreements with 63 cities were signed in Andhra Pradesh, Rajasthan, Uttar Pradesh and Delhi NCR and agreements with 68 more (Maharashtra, UP, AP and Himachal Pradesh) are in final stages. The government plans to distribute 15 crore LEDs by March 2016. Officials say 302 ULBS have enrolled in the programme.
Work in six ULBs – Vizag, Jhalawar, Mt Abu, Pushkar, Neelimarna and Agartala has been completed with 20,700 street lights replacement. Installation is in progress in 88 ULBs in Delhi, Rajasthan and AP to replace 9.3 lakh lights. An agreement with 90 municipalities is under finalisation and 15 lakh LEDs will be installed by March next year. Amid LED bulbs replacing ordinary bulbs and CFLs, officials giving overall power scenario, say power generation growth was highest this year in 20 years – 8.4%, coal production growth most in 23 years – 8.3%, and solar capacity increased by 42%.
Officials say the accelerated pace of energy savings would be achieved by a mixture of aggressive policy and regulatory actions, market based interventions and enhanced outreach. The main areas of focus would be Buildings, Led lighting, appliances, energy intensive industries and agriculture.
EESL (Energy Efficiency Services Limited),a joint venture company of PSUs of power ministry has been designated as the implementing agency for both the programmes- DELP and Street lights. It has an authorized share capital of Rs 500 crore. On financial position, officials said EESL discussions were underway for Rs.3, 000 crores credit with Asian Development Bank, German funding agency KfW and Japan Industrial Cooperation Agency besides Rs. 700 crore line of credit available from KfW and AfD. The equity base of EESL, which has been increased from Rs 90 crore to Rs 500 crore, will be enhanced to Rs 1,000 crore, they added.
EESL has implemented about 92,000 street light retrofit projects in Vizag and it will reduce energy consumption by 50 per cent in the Greater Vizag Municipal Corporation (GVMC) this year in comparison to last year. Officials say the entire upfront capital of Rs 64 crore has been invested by EESL and will be recovered over a period of seven years. The municipality will pay EESL a sum of Rs 18.5 crore while its overall costs saving would be Rs 31 crore annually.
Elaborating the service model of DELP, officials said the plan enables households to procure LED lights at an affordable price of Rs.10 each and the balance on easy instalments from their electricity bill. DELP is under implementation in Andhra Pradesh, Delhi NCR, Rajasthan and Uttar Pradesh. In markets, the LED lights cost Rs 300- Rs 400 but EESL is charging Rs 95-Rs 105 and it is less than the savings of one year.
Officials say the prices were reduced from Rs 310 per bulb in January 2014 to Rs 73 in June this year. Large scale and transparent procurement, say officials,has led to sharp decline in LED bulbs prices. For street lights, prices have come down from Rs.137 per watt to Rs.85 per watt. The programme is delivering energy savings of 400 m kWh in Puducherry and AP as per the online monitoring installed by EESL.
On the emerging scenario, Power Minister Piyush Goyal says a slew of measures were taken to ensure 24×7 power supply round the year. Steps are under way to amend the electricity bill. The proposed amendments seek to end the monopoly of power distribution companies by segregating the carriage (distribution sector/network) from the content (electricity supply business) in the power sector by introducing multiple supply licensees so as to bring in further competition and efficiency in the distribution sector by giving choice to the consumers.
Goyal said the several "foundational initiatives" had been taken up to realise Mr Modi's vision of 24×7 affordable power for all. Officials say during last one year, many milestones accomplished include, lowest ever power deficit in India's history – 3.6%, highest ever power capacity addition – 22,566 MW, maximum increase in transmission line capacity – 22,100 circuit kms, most ever addition in sub-station capacity – 66,554 MVA and highest ever coal production increase by Coal India – 32 million tonnes.
Corruption, the officials said, was bridled with Rs 3.35 lakh crores of potential revenue going to coal-bearing states especially in eastern India through transparent coal e-auctions and allotments, over the lifespan of mines. They say E-auctions have set the basis for transparent and "honest" allocation of natural resources. LED bulb price also reduced by 74% due to transparent procurement (Rs. 310 in Feb 2014 to Rs. 73 in June 2015).
Future plans launched include more than five-fold increase in renewable energy capacity to 175,000 MW by 2022 (Organised Renewables Financing Conference, RE-Invest 2015 which attracted commitments of 273,000 MW) and five new UMPPs (ultra mega power projects) in plug-n-play mode(total 20,000 MW).
Other aims are reduction in peak load shortages through revival of stranded gas based power plants through transparent e-bidding, Rs 1.09 lakh crore investment in sub-transmission and distribution through Deen Dayal Upadhyay Gram Jyoti Yojana (DDUGJY) and Integrated Power Development Scheme (IPDS) and Rs. 1 lakh crore of new transmission projects to be bid out in the current year.Clean energy will be prioritised with 25 solar parks of about 100 MW each planned and a Rs 38,000 crore green energy corridor being set up to transmit renewable energy.
Highlighting the government's focus on development of backward regions, the officials said investment of Rs 9,865 crore was approved for upgrading power systems in eight North Eastern states (Arunachal Pradesh, Assam, Manipur, Meghalaya, Mizoram, Nagaland, Sikkim and Tripura). They said transmission line was approved with investment of Rs 26,000 crore to evacuate power to southern region from western region.
Officials say to promote energy conservation through LED, action plan envisages higher involvement of states, with thrust on places of tourism, religious and heritage sites and involvement of private sector. On the lighting industry capacity to meet demands, officials say domestic industry can manufacture 3.2 crore LED bulbs every month, and street light production is about two lakh per month for major players. Numbers of lighting manufacturers have increased from 27 in March this year to 68 in May. Increase in domestic demand will encourage LED chip manufacturers to set up facilities in India.
In the agriculture sector too, the demand side management (DSM) is scaling up. Project area in AP has been identified with 3,600 pumps with segregated feeders and commercial deployment of solar agriculture pumps is also being examined. MoU is being signed between EESL and CPWD for implementation in 1,000 government buildings across the country. Other MoUs in the pipeline are between Railways and EESL to implement efficiency measures in buildings and stations, among others.