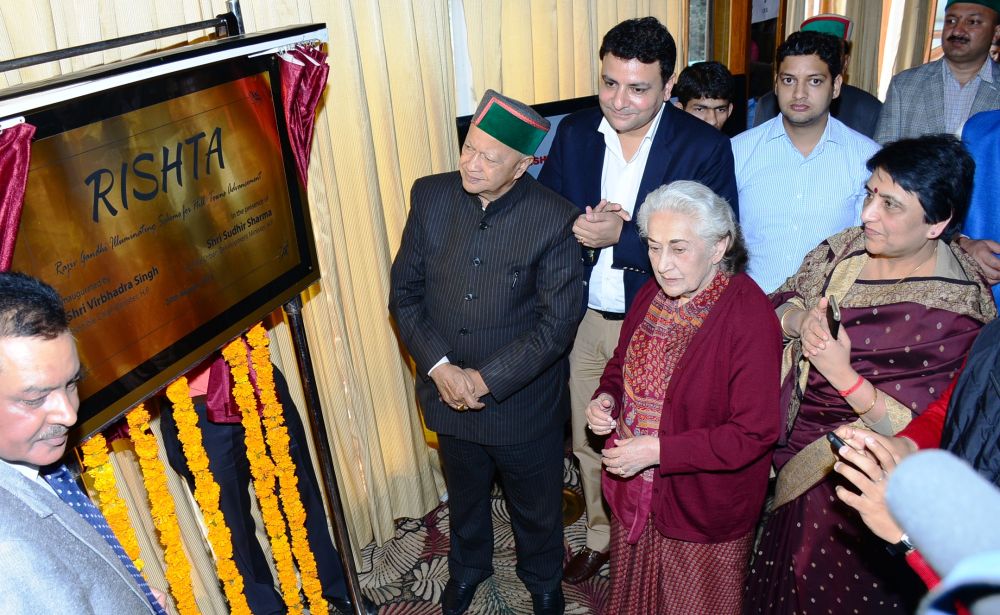 Shimla: Chief Minister Virbhadra Singh launched Urban Smart Street Lighting Project 'Rajiv Gandhi Illuminating Scheme for Hill Town Advancement (RISHTA), an efficient smart street lighting project at Shimla today which makes Himachal Pradesh the first State in North India to do so.
The Urban Development (UD) Department has taken this innovative in collaboration with EESL (Energy Efficient Services Limited) a joint venture company formed by four power sectors i.e. National Thermal Power Corporation (NTPC), Power Grid Corporation of India (PGCIL), Power Finance Corporation Ltd. (PFC) and Rural Electrification Corporation (REC).
Under the scheme the EESL will invest all the capital upfront. The investment will be paid back my municipalities over a period of seven years from energy and cost savings that accrue as a result of installation of energy efficient LED lights, operation and maintenance through highly sophisticated CCMS.
The Chief Minister revealed that the scheme would be immediately launched in Shimla, Dharamsala, Sundernagar, Paonta Sahib, Hamirpur, Ghumarwin and Manali before 31st March 2016.
Virbhadra Singh said a total of 63,484 street light fixtures in all the ULB's would be replaced by LEDs to achieve 45-55% energy savings besides savings of Rs 3.20 crore per annum in monetary terms. The total savings within a year in terms of operation and maintenance would be Rs 6.5 crore.
It would discipline switch off and switch on procedures and the Operation and Maintenance of the LEDs will be through CCMS besides replacing old and obsolete lightning system.
He appreciated the efforts of the UD for the initiative of replacing all old expensive fixtures with LEDs which would be fully computerised and smart service delivery to the urban population through e-district project, free Wi- Fi services and for introducing state of the art municipal solid waste management system besides initiatives for mechanical sweeping to keep our towns and cities waste free.
Urban Development and Housing Minister Sudhir Sharma briefed about the initiatives the department. He said that the State level agreement with EESL had been signed and the remaining urban local bodies and the rest of the towns would be covered by 2015-2016.
Irrigation and Public Health Minister Vidya Stokes, Chief Parliamentary Secretary Nand Lal and Mansa Ram, MLA Balbir Verma, Deputy Mayor, Municipal Corporation, Shimla Tikendar Panwar, Additional Chief Secretary Urban Development Manisha Nanda and Director Urban Development Capt J.M. Pathania, Managing Director EESL, Saurabh Kumar were also present on the occasion amongst others.