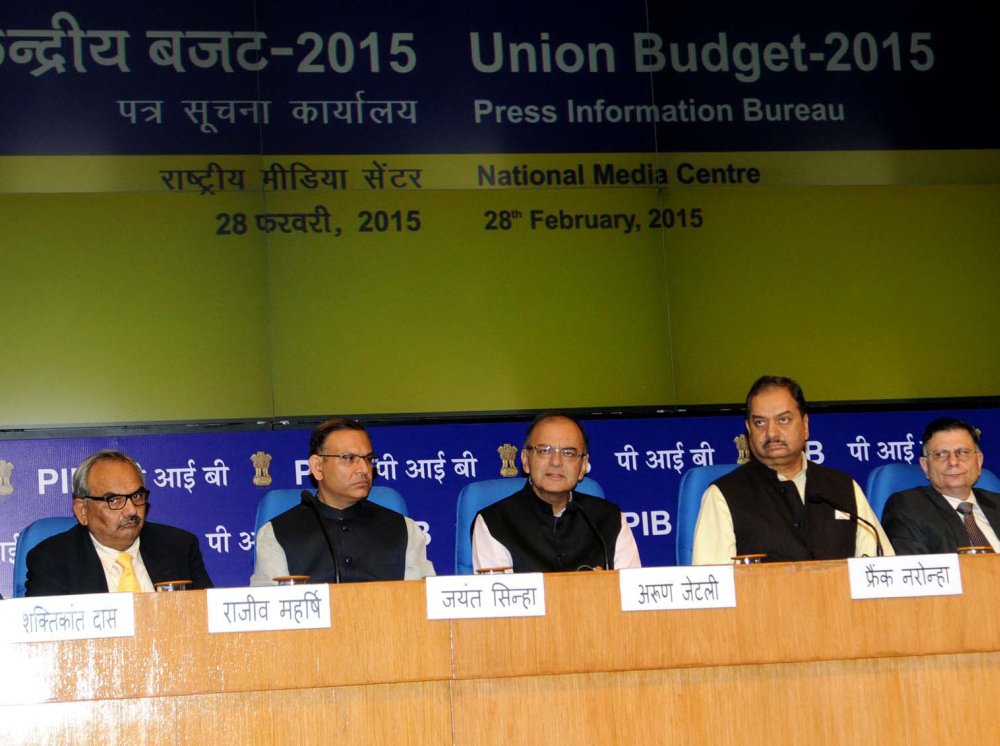 Finance Minister Arun Jaitley presented Union Budget 2015 in Parliament today. It's first full Union Budget for Jaitley. He is hoping estimated 7.4% GDP growth for 2014-15 and growth between 8 to 8.5% in the next financial year.
The Minister underlined that India has to think in terms of a quantum jump.
Major highlights of Union Budget 2015
Rs. 68,968 crore has been allocated to the education sector including mid-day meals, Rs. 33,152 crore to the health sector and Rs. 79,526 crore for rural development activities including MGNREGA, Rs. 22,407 crore for housing and urban development, Rs. 10,351 crore for women and child development, Rs. 4,173 crore for Water Resources and Namami Gange.
Rs. 2,46,727 crore has been allocated to the defence, an increase of 9.87 per cent over last year.
Non-Plan expenditure is estimated for the Financial Year are Rs. 13,12,220 crore.
Plan expenditure is estimated to be Rs. 4,65,277 crore, which is very near to the R.E. of 2014-15. Total Expenditure has accordingly been estimated at Rs. 17,77,477 crore. Gross Tax receipts are estimated to be Rs. 14,49,490 crore.
Devolution to the States is estimated to be Rs. 5,23,958 crore. Share of Central Government will be Rs. 9,19,842 crore. Non Tax Revenues for the next fiscal are estimated to be Rs. 2,21,733 crore. He said with the above estimates, fiscal deficit will be 3.9 percent of GDP and Revenue Deficit will be 2.8 percent of GDP.
Pradhan Mantri Suraksha Bima Yojana to Cover Accidental Death Risk of Rs. 2 Lakh for Just Rs. 12 per Year Premium
Atal Pension Yojana for Defined Pension, Government to Contribute 50% Of The Premium
Pradhan Mantri Jeevan Jyoti Bima Yojana to Cover both Natural and Accidental Death Risk
Proposal to Create Senior Citizen Welfare Fund
National Investment and Infrastructure Fund Proposed
Tax Free Infrastructure Bonds for Projects in Rail, Road and Irrigation Sectors
SETU (Self-Employment And Talent Utilisation) Mechanism To Support Start-Up Businesses
5 New Ultra Mega Power Projects to Be Set Up
Gold Monetisation Scheme To Replace Present Gold Deposit And Gold Metal Loan Schemes
New Institutions Including AIIMS, IIT and IIM to Be Set Up
Total Expenditure Estimated To Be Rs. 17,77,477 Crore, Fiscal Deficit To Be 3.9% Of GDP
Objective of Stable Taxation Policy and a Non-Adversarial Tax Administration
Fight against Scourge of Black Money to Be Taken Forward
Efforts on Various Fronts to Implement GST from Next Year
Proposal To Reduce Corporate Tax From 30% To 25% Over The Next Four Years, Starting From Next Financial Year
Rationalization and Removal of Various Tax Exemptions
Incentives to Reduce Tax Disputes and Improve Administration
Exemption to Individual Tax Payers to Continue To Facilitate Savings
No Change in the Rate of Personal Income-Tax and the Rate of Tax for Companies on Income in Financial Year 2015-16
Surcharge @12% Levied on Individuals, HUFs, AOPs, BOIs, Artificial Juridical Persons, Firms, Cooperative Societies and Local Authorities Having Income Exceeding Rs 1 Crore
Education Sector Allocated Rs. 68968 Cr while Rural Development gets Rs 79526 Cr in the Year 2015-16
Nirbhaya Fund gets Another Rs 1000 Cr in 2015-16
The Union Finance Minister Arun Jaitley has proposed to create a task force to establish a sector neutral financial redressal agency that will address grievances against all financial service providers. Presenting the General Budget 2015-16 in the Lok Sabha here today, Shri Jaitley stated that a properly functioning capital market requires proper consumer protection.
The Finance Minister also informed that the work assigned to the Task Forces on the Financial Data Management Centre, the Financial Sector Appellate Tribunal, the Resolution Corporation, and the Public Debt Management Agency are progressing satisfactorily.
8 Centrally Sponsored Schemes Delinked from Support of the Centre
1. National e-Governance Plan
2. Backward Regions Grant Funds
3. Modernization of Police Forces
4. Rajiv Gandhi Panchayat Sashaktikaran Abhiyaan (RGPSA)
5. Scheme for Central Assistance to the States for developing export infrastructure
6. Scheme for setting up of 6000 Model Schools
7. National Mission on Food processing
8. Tourist Infrastructure
Whereas 24 Schemes to be run with the Changed Sharing Pattern while 31 Schemes will Get Full Support of the Centre.
Jaitley said India is making good progress towards digital India. He said the National Optical Fibre Network Programme (NOFNP) of 7.5 lakh kms networking 2.5 lakh villages is being further speeded up by allowing willing States to undertake its execution.
The Union Finance Minister Arun Jaitley has proposed to merge the Forwards Markets Commission with SEBI to strengthen regulation of commodity forward markets and reduce wild speculation. Enabling legislation, amending the Government Securities Act and the RBI Act is proposed in the Finance Bill, 2015.
It has also been proposed to amend through the Finance Bill, Section 6 of FEMA to provide that control on capital flows as equity will be exercised by the Government, in consultation with the RBI.
The Finance Minister proposed to create a Micro Units Development Refinance Agency (MUDRA) Bank, with a corpus of Rs. 20,000 crore, and credit guarantee corpus of 3,000 crore, which will refinance Micro-Finance Institutions through a Pradhan Mantri Mudra Yojana,. He added that priority will be given to SC/ST enterprises in lending.