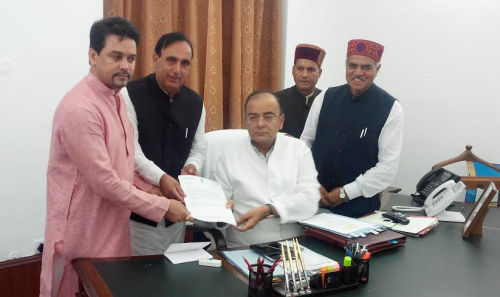 Senior BJP leader and former state Horticulture Minister Narinder Bragta, MP Anurag Thakur, Virender Kashyap and Ram Swaroop Sharma today met Union Finance Minister Arun Jaitley and apprised him about the adverse impact of imported apple on the Himachal Pradesh and its apple growers.
The state BJP leaders submitted a memorandum to the Union Finance Minster raising issue of apple import and demanded immediate action to discourage it.
Giving details of Apple Import, former state Horticulture Minister apprised Union Finance Minister that as per the report of Directorate General of commercial Intelligence and Statistics, the import of apples had increased by over 50 percent from 134,576 tonnes in 2010-11 to 199,262 tonnes in 2012-13 and alone China contributed 73,648 tonnes.
Narinder Bragta apprised Jaitley that many non- SAARC nation were misusing the SAFTA agreement as they were illegally importing apple in the country. Authenticating his allegations with Directorate report, Bragta alleged that recently an unknown quantity of gray-market imports of inferior quality apple from Iran were dumped in the Indian market from January through March 2013 and were falsely attributed to the Afghanistan.
He doubts to repeat such illegal practices in the future as well and demanded Union Government to take immediate step to curve it.
Bragta suggested imposing more then 50 percent import duty on Apple Import and demanded to implement Anti Dumping Duty. To nullify norms of world trade, Bragta suggested enlisting apple in special category produce.
Bragta also reminded Union Finance Minister about the step taken by the former Prime Minister Atal Bihari Vajpeyee, when in 2000 on demand of then Himachal Pradesh Chief Minister Prem Kumar Dhumal had imposed 50 percent import duty on apple import, but later UPA government waived import duty that impacts apple growers of the state adversely.
Himachal BJP leaders also met Nirmala Sitharaman, Minister of State (Independent Charge) for Ministry of Commerce & Industry and Minister of State for Finance and Corporate Affairs and apprised her about the Apple Import issue and sought her intervention to safeguard the interest of lakhs of apple growers of the state.
Earlier Yesterday, Naridner Bragta along with MP Anurag Thakur, Virender Kashyap, Ram Swaroop Sharma and Vimla Kashyap met Agriculture Minister Radha Mohan Singh and appraised him about the horticulture-related issues in the state. BJP leaders demanded Rs100 crore grants for completing Parala market yard, besides demanded assistance for the horticultural activities across the state.