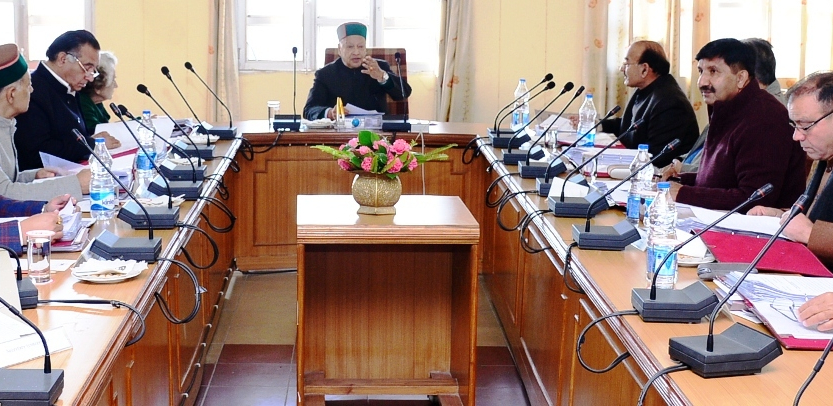 Dharamshala: The Himachal Pradesh Cabinet granted approval to constitute Bench of Himachal Pradesh Administrative Tribunal with two benches having one Judicial Member and one Administrative each having its jurisdiction throughout the state.
In a cabinet meeting chaired by Chief Minister Virbhadra Singh here today accorded approval for three passenger ropeways from Tourist Information Centre (TIC) to lift and to Mall Shimla, Dharmshala to Mcleodganj and Chamunda temple to Adi Himani Chamunda. These ropeways would be established under Public-Private-Partnership (PPP) mode.
Cabinet also approved expansion of JP Himachal Cement Plant at village Baga in Solan district for enhancement of clinkerization Capacity.
To give relief to Bhakra oustees, the Cabinet decided to convert the plots on freehold basis of those Bhakra Dam oustees who had already been allotted plots in New Bilaspur Township earlier, on perpetual lease holder basis for 999 years, at token consideration of Rs.1 per square meter.
The Cabinet accorded its approval for canceling small hydel electric projects in private sector for their non-commitment regarding completing prior project implementation formalities i.e. submitting of DPRs etc. These projects are Ghagas (1MW), Anni-IV (2.50 MW), Najan (1 MW), Suhi (1.50 MW), Chachul (3 MW), Joiner Top-I (5 MW) and Sainj Bhagaru (0.80 MW).
It also decided to restore the Chatarkhand (1.5 MW) Hydel Project in district Shimla with small amount of penalty fee for delaying the project. Besides, change of elevation and capacity enhancements of Chandernahan (4 MW) in district Shimla.
The Cabinet granted approval to carry out amendment in the H.P. Village Common Lands Vesting and Utilization Act, 1974. It also granted approval to Tibetan Rehabilitation Policy (TRP) with certain guidelines as per TRP, 2014 of Govt. of India.
It approved to introduce Shimla Road Users and Pedestrians (Public Safety and Convenience) Amendment Bill, 2015 and Himachal Pradesh Co-Operative Societies (Amendment) Ordinance, 2015.
The Cabinet also decided to include Deti and Majhara Community in the State List of OBC.