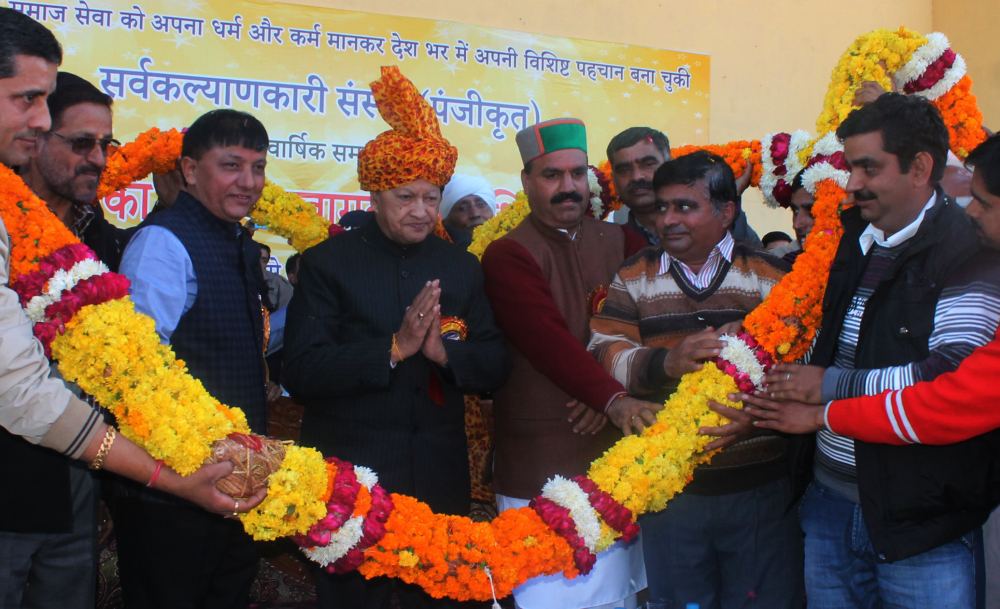 Chief Minister Virbhadra Singh lauded the role of Sarvkalyankari Sanstha, an NGO committed towards the welfare of the people at Sujanpur -Tihra in district Hamirpur, and advised those who were in politics to serve the people as it was an opportunity given to them by the people.
He said it while presiding over the 15th annual function of Sarvkalyankari Sanstha.
Lauding the efforts of Rajinder Rana, the Chairman of the Sarvkalyankari Sabha, the Chief Minister said that Rana was more a social worker than a politician.
He said that Sujanpur-Tihra was of historical importance and we need to preserve the traditions and language of the regions.
The Chief Minister announced to upgrade Community Health Centre (CHC) Sujanpur to Civil Hospital, construction of new bus stand at Sujanpur-Tihra.
Virbhadra Singh also announced opening of Ayurvedic Health Centers at Bir in Gram Panchayat Bagera, Siswan in GP Sakandar and Noungi in GP Tapre. He announced to upgrade Government Middle School Kheri and Middle School Bhadera to High School.
The Chief Minister presented Shane Himachal awards to Dr. K.K. Katoch, Vice Chancellor, HP Agriculture University, Palampur, Dr, R.K. Jaswal Cardio specialist, from Gagret, Una, Gautam Sharma Vayathit in the feild of literature from Rait in district Kangra, Pratap Sharma, Folk Singer from Nalti, Kangra district, Jyoti Singh in field of education, Dr. N.K.Sharma, in Social Service from Mandi, Ms Pooja Thakur in sports (Kabaddi) from Bilaspur, Sanjay Marwah for promoting art and culture from Mandi, Krishan Chand from Sujanpur Tihra for Bravery and Sh Perma Ram Chaudhary from Sundernagar in Mandi for agriculture.
The Hamir Gaurav awards were given to Dr. Rajinder Patial from Bhaleth Village in Sujanpur Tihra in Health and social service sector, Madan lal from GSSS Kakkar, Hamirpur in Education, Prem Chand from Dugga Hamirpur in agriculture, Ms, Nalini Vibha Nazli in promoting music, Risha Thakur from Village Karada Hamirpur in National Sports event , Shilpa from village Dhanyal, Nadaun in science Ms Sapna Jaswal, who stood first in Msc Physics in HPU, Ekshita Rana Ist lady Commissioned from Sainik School Sujanpur-Tihra in Aviation corps from Baroti, Barsar in Hamirpur.
Speaking on the occasion Rajinder Rana Chairman of the Sarvkalyankari Sanstha and Vice-Chairman of HP State Disaster Management Board, said that the NGO was formed with a motive of serving the poor and needy of the area. He said that every year his NGO honours and awards those, who had made a mark and have excelled in various fields viz that of promoting art, culture, language and literature, education, sports, science and research, medical etc.
Chief Parliamentary Secretaries Inder Dutt Lakhanpal and Jagjeevan Pal, MLAs Sanjay Rattan, Yadvinder Goma, Pawan Kajal, Manohar Dhiman, Vice-Chairman HP State Forest Corporation Kewal Singh Pathania, Vice-Chairman Kangra Central Co-operative Bank Kuldeep Singh Pathania, were present on the occasion amongst others.