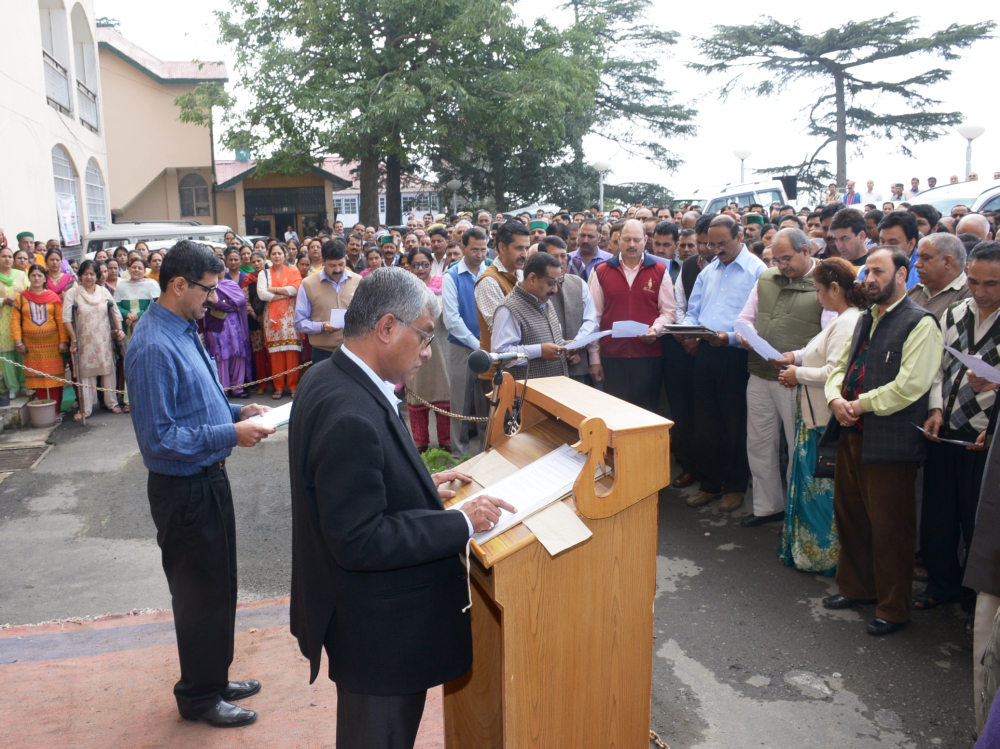 Himachal Pradesh Chief Secretary P. Mitra administered 'Cleanliness Pledge' to the employees of H.P. Secretariat here today, on the birth anniversary of the Father of Nation to start Swachh Bharat Mission.
Mitra exhorted all officers and officials to come forward to participate in cleanliness drive to fulfill the dream of the Father of the Nation to make the India neat and clean.
Additional Chief Secretary, V.C. Pharka, Principal Secretary Forest Trun Sridhar, Principal Secretary PWD Narender Chauhan, Principal Secretary Finance Dr. Shrikant Baldi, Principal Secretary Ali Raza Rizvi, Principal Secretary Ayurveda Sanjay Gupta, Principal Secretary Education P.C. Dhiman, Principal Secretary Industries R.D. Dhiman, Principal Secretary Food & Civil Supplies K. Sanjay Murthy, Special Secretary Urban Development Purnima Chauhan and other senior officers and employees participated in the cleanliness drive.
Similarly, 'Cleanliness Pledge" was also administered in various other offices of the State.
Director, Information & Public Relations, Rakesh Sharma administered the pledge of Swachh Bharat Mission to employees. He said to realize the clean India Campaign; everybody should begin the initiative from his own house, work place and its peripheries.
The senior officers and officials of the department participated in the cleanliness drive.