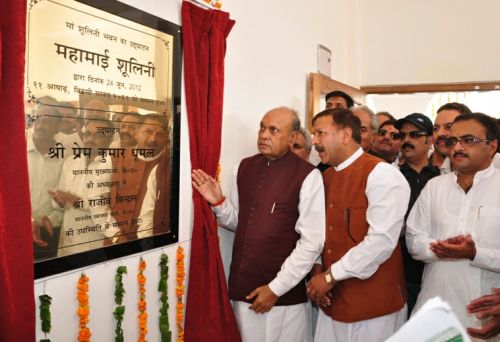 The State Government would ensure availability of carry bags manufactured out of non plastic and non polythene material to the people. This was revealed by Prof. Prem Kumar Dhumal, Chief Minister in his address during the closing ceremony of three day long State level Shoolini Fair at Solan today after dedicating Kalyan Bhawan constructed at a cost of Rs. 3.53 crore, Police Administrative Block constructed at a cost of Rs. 1.21 crore to the people of the district and also performed foundation stone laying ceremonies of Panchayat Bhawan estimated to cost Rs. 6.65 crore and residential quarters estimated to cost Rs. 1.32 crore, veterinary poly clinic to cost Rs. 63 lakh besides dedicating Mata Shoolini Bhawan completed at a cost of Rs. 87 lakh to the devotees.
Prem Kumar Dhumal said that he was indebted to the people of the State for voluntarily stopping use of recycled polythene and plastic bags thereby lending their support in banning use of plastic in the State which had been major hindrance in the environmental preservation. He said that the State Government was making concerted efforts to provide people alternate to the plastic material so that bio-degradable material was used for making carry bags.
Chief Minister said that the State Government was distributing two pairs of school uniform to 9.30 lakh students of all government schools in a year studying from 1st to 10th standard. He said that State Government had also decided to provide Rs. 100 with each pair of school uniform to the students as stitching charges. He said that the distribution of uniform was likely to be completed by the end of next month.
Prof. Dhumal said that women empowerment was on the priority agenda of the State Government and many schemes had been envisioned and implemented for their speedy socio-economic upliftment, besides providing 50 percent reservation to the women in Panchayati Raj Institutions and 33 percent in cooperatives sector. He said that 'Matri Sewa Yojna', 'Swasthya Bima Yojna' and other such schemes were under implementation for the betterment of the society. He expressed deep concern over pre-natal diagnosis tests being carried by some of the families and thereby terminating the female foeticide resulting into imbalance in sex ratio in the State. He said that although State Government was taking effective steps required but such a social vice would not stop unless the awakened citizens raised an alarm to any such incident taking place in the State so that errant could be punished as per local provisions available. He said that 'Beti Hai Anmol scheme aimed at providing financial assistance to the girls of poor families which had been increased from Rs. 5100 to Rs. 10,000. He said that besides providing free education to girls upto highest level scholarships were also available to them.
Chief Minister said that Atal Swathya Sewa had been of great importance in serving the suffering humanity at the time of emergency by transporting them within no time to the nearest health institution free of cost. He said that 135 such ambulances had been deployed in different stations to cover the entire State and were available at a toll free Number 108. He said that Atal Bijali Bachat Yojna had also been launched at a cost of Rs. 63 crore and had saved electricity bills to the tune of Rs. 110 crore and each of the domestic consumers had been provided four CFL bulbs free of cost. He said that with a view to solve housing problem of the poor, grant in aid on housing subsidy under 'Atal Awas Yojna had been increased from Rs. 27,500 to Rs. 48,500 besides increasing the grant for repair from Rs. 12500 to Rs.15000.
Prof. Prem Kumar Dhumal said that State Government was providing subsidy on three pulses, two edible oil, one kg of iodized salt to every ration card holder irrespective of their economic and social status through Public Distribution System in the State. He said that Rs. 140 crore were being spent under the Scheme to help consumers beat the price rise which has been a central subject. He said that directions had been passed to concerned authorities to ensure that every retail outlet display the board with regard to prices of the commodities and availability of stock besides telephone number of respective district DFSC so that consumers could directly address their grievances to the competent authority.
Chief Minister released a souvenir brought out by the Organising Committee to mark the celebration and also inaugurated wrestling bout. Prem Kumar Dhumal also paid his obeisance at the temple of presiding deity Mata Shoolini.
Dr. Rajeev Bindal, Health Minister welcomed the Chief Minister and thanked him for inaugurating and laying foundation stones of various projects besides presiding over the closing ceremony of Shoolini Fair. He apprised the Chief Minister of various activities organised during three day long celebration.
Virender Kashyap, MP, Rajeev Saijjal, Gobind Ram Sharma, Vinod Chandel, MLAs, Kulrakesh Pant, Chairman, Municipal Council, Solan, Dr. D.S. Manhas, Director General of Police, Abhishek Jain, Director, SC, OBC, Minority Affairs Department, senior officers and other prominent persons were present on the occasion.