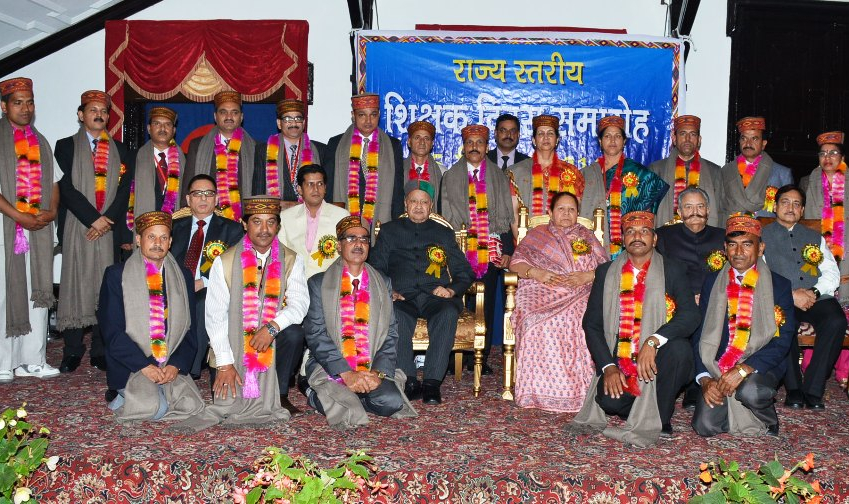 Himachal Pradesh Governor Urmila Singh conferred State Awards upon 14 teachers and honoured four National Award Winner teachers for the year 2012 in function held at Rajbhawan on the occasion of State level Teacher's Day here today.
Chief Minister Virbhadra Singh was also present on the occasion.
Governor conferred State Awards upon Bhupinder Gupta, Principal, GSSS Bhumpti, District Solan, Saraswati Nadan Prasher, Headmaster, GHS Rakhera, district Mandi, Madan Lal, Lecturer, GSSS Kakkar, District Hamirpur, Janamjay Singh Guleria, Lecturer, GSSS Shahpur, District Kangra, Sudesh Hazri, DPE, GSSS Sailgaloo, District Mandi, Som Singh Bhardwaj, TGT, GHS Bahi Pathiair, District Kangra, Ravi Shanker, Art & Craft Teacher, GSSS Takka , District Una, Ashok Thakur, Shastri, GHS Uschar District Kangra, Krishan Pal Sharma, Shastri, GHS Bharari District Shimla, Nirmala Devi, CHT, GCPS Domehar, district Bilaspur, Birbal Katoch, CHT, GCPS Bharagaon, District Mandi, Rajesh Kumar, CHT, GCPS Batheri, District Mandi, Ram Lal, JBT, GPS, Shodhadhar, District Mandi, Bhim Singh, HT, GPS Tarrur, District Mandi.
She also honoured four National Award Winners for the year 2012 including Rakesh Kumar, TGT, GSSS, Ambehra, District Una, Narotam Chand, CHT, GPS Deol, District Kangra, Soma Rana, Headmaster GHS Nasloh district Mandi and Sartaj Singh, Lecturer (Economics) GSSS Chandi district Solan on the occasion.
Earlier, Governor paid rich tributes to late Dr S. Radhakrishnan, former President of India, on whose birthday Teacher's Day is celebrated.
Governor also released a souvenir on the occasion.
In her address on the occasion, Governor Urmila Singh urged all the teachers to undertake teaching profession as a 'mission' and serve the country and society with utmost dedication.
Governor underlined the importance of ' Guru' and added that our culture accorded highest reverence for teachers and it was due to the learned 'Guru's' and the knowledge possessed by our ancestors that India was regarded as a hub of Knowledge in the past.
Ashok Sharma Director Elementary Education welcomed the dignitaries on the occasion, while Shashi Bhushan Sekhri, Director, Higher Education proposed vote of thanks.
Sujan Singh Pathania, MPP and Agriculture Minister, Chief Parliamentary secretaries, Neeraj Bharti and Sohan Lal, Ali Raza Rizvi, Principal Secretary Education, senior officers of state government, teachers and students of various schools were also present among others on the occasion.