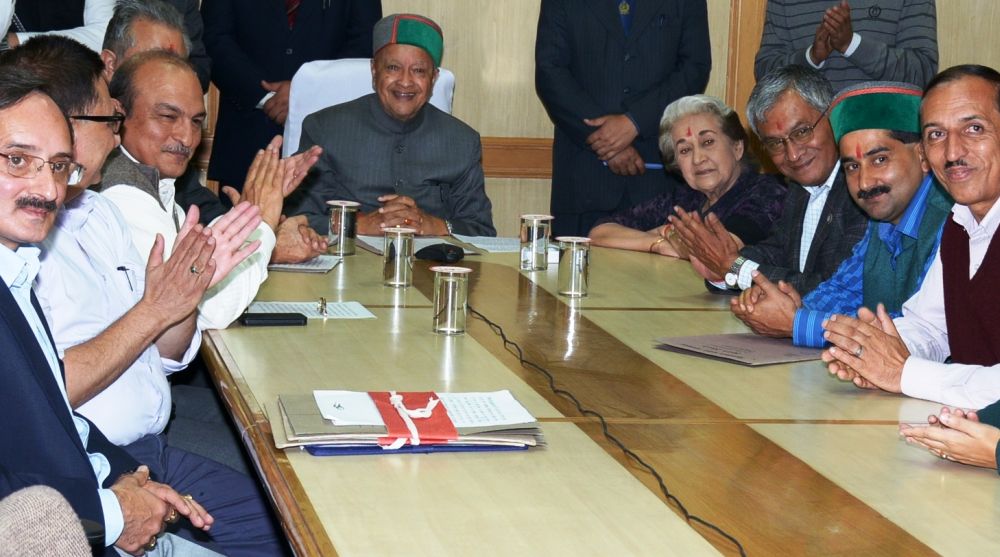 Himachal Pradesh Chief Minister Virbhadra Singh inaugurated the newly created Sub Tehsil Deha and also up-graded Sub-Tehsil Kupvi to Tehsil in Shimla district through Video Conferencing from here today.
Balbir Verma, MLA and Subhash Manglet Chairman, APMC were present at Kupvi along-with various Pradhans and Up-Pradhans of as many as 14 Panchayats of the area amongst the District level Officers who facilitated the inauguration.
In a message to the people of the far-flung Kupvi Tehsil, the Chief Minister said that the Congress Government was committed for providing better services to the people of the far-flung areas and during the last two years of present Government regime effective steps has been initiated for providing the basic facilities to the people of the State. He said that as per his promise to the people of the area, he declared the opening of Sub-Tehsil at Deha and upgradation of Kupvi Sib-Tehsil to Tehsil today.
He said that the Kupvi Tehsil would include 14 Panchayats, One Kanungo Circle and seven Patwar Circle and similarly Sub-Tehsil Deha would include under it 10 Panchayats, One Kanungo circle and nine Patwar Circles.
The Chief Minister congratulated the people of the area on the occasion and said that their welfare was the priority of his Government.
MLA, Chopal Balbir Verma thanked the Chief Minister for dedicating Kupvi Tehsil and Deha Sub-Tehsil to the people of the area and for other development works being carried out in the area.
IPH Minister Vidya Stokes, MPP and Agriculture Minister Sujan Singh Pathania, Chief Secretary P. Mitra, Additional Chief Secretary V.C. Pharka, Principal Secretary Revenue Tarun Shridhar, Principal Secretary IT Ali Raza Rizavi, Deputy Commissioner Shimla Shri Dinesh Malhotra and Director IT Priyanka Basu other senior officers of IT Department were present on the occasion.