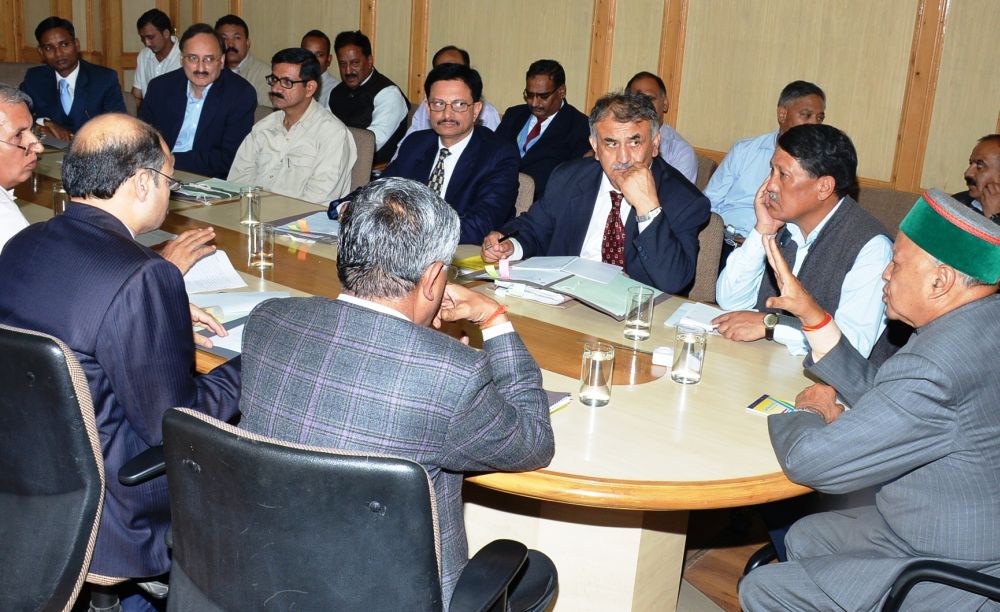 While presiding over the meeting regarding the pending issues of the four-lane project of Kiratpur-Manali and Parwanoo-Shimla National Highways, the Chief Minister Virbhadra Singh took serious view about the poor road condition and asked the PWD authorities to repair roads requiring maintenance within a month.
The Chief Minister made it clear that till the time the new four lane project of Kiratpur-Manali highway was not completed the National Highway Authority of India (NHAI) will maintain the existing NH 21 on which the officers of NHAI suggested that they were ready to provide substantial amount to PWD for the same and the department may take over the work of maintaining of the old highway. However, the Chief Minister stated that it was obligatory on the part of NHAI to maintain the old National Highway (NH) 21.
The NHAI also demanded the short term permits for setting up crushers as lot of material would be required for the construction of the road. Regarding the compensation of the land to be acquired it was decided that the Deputy Commissioner of the concerned districts would be the arbitrators for solving the issues if any arising for giving awards for acquiring the land.
The Chief Minister said that the road width of the entire project should be the same throughout and the Deputy Commissioners should co-operate with NHAI for giving certificates under the Forest Clearance Act.
Both NHAI projects which were to be completed under the Engineering, Procurement and Contract (EPC) basis were to be expedited and all the hindrances regarding the awards be solved as soon as possible said the Chief Ministry.
It was informed in the meeting that a bridge in Manali will be made double lane and the Ministry of Surface & Road Transport, GoI will soon be releasing the amount to the PWD department for undertaking the work on the bridge soon.
Chief Secretary P. Mitra, ACS V.C Pharka, Principal Secretary Finance Dr. Shrikant Baldi, Principal Secretary PWD, Narinder Chauhan, DGP, Sanjay Kumar, Deputy Commissioners, Shimla, Dinesh Malhotra, Madan Chauhan, Solan, Ajay Sharma, Bilaspur and Sandeep Kadam Mandi, Senior officers of NHAI and other officers of the Government were present on the occasion.