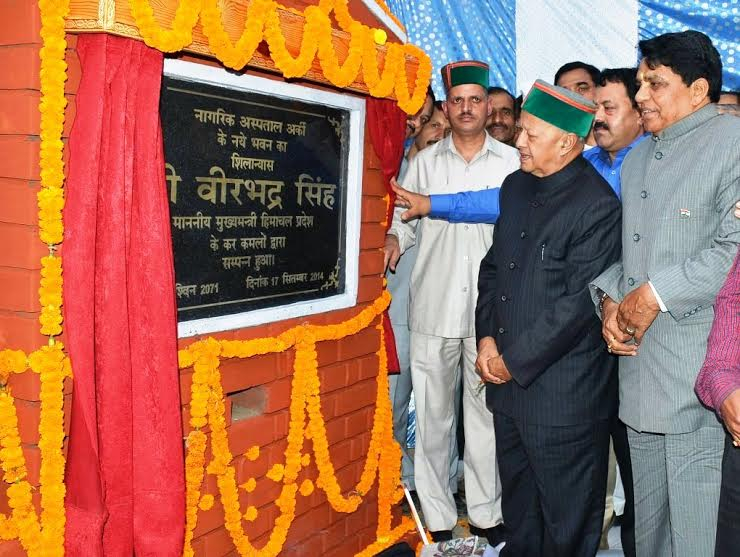 Himachal Pradesh Chief Minister Virbhadra Singh inaugurated the famous district level 'Sair' festival at Arki, which is also known as 'Festival of Bulls', and is also famous for exhibition of rare breed of Buffaloes.
Chief Minister, while addressing the gathering, stated the fairs and festivals are the real identity of traditions, customs and culture of the state and it required to be preserved as they are inseparable part and parcel of the life of the hill people.
Earlier, the Chief Minister inaugurated Sub-division office cum residence of the Assistant Engineer National Highway constructed at a cost of Rs.45 lakh and also performed the foundation stone laying ceremony of the 50 bedded Civil Hospital Arki to be constructed at a cost of Rs. 8.10 crore. The hospital would be consisiting of the three special wards besides seven OPDs. It will have facilities like CT Scan, X-rays, etc.
Chief Minister also released a souvenir on the occasion brought out by the Mela Committee and inaugurated the exhibitions set up on the occasion by various Govt departments and NGOs showcasing the development activities.
While speaking on the occasion, Col (Dr.) Dhani Ram Shandil, Social Welfare and Empowerment Minister, congratulated the people on the occasion and counted achievements of the Present State Government.
Rajinder Thakur, Member Animal Welfare Board also welcomed the Chief Minister and honoured him and other dignitaries.
Updated on (20 Oct 2019)
Sair Fair
The Sair Fair is an annual two-day event held at Arki on Sakranti of Ashwin (16/17 September). The fair was famous for buffalo fights. Local people used to train their buffaloes for the event but since 2015 the event is not taking place. The fair is attended by thousands of people every year. Night programs in this fair are always different and people of Arki enjoy the day a lot
History of Arki
Arki was the capital of the princely Hill state of Baghal, which was founded by Rana Ajai Dev, a Panwar Rajput from Dhar state in Central India. The state was founded in 11th century and Arki was declared its' capital by Rana Sabha Chand in 1643. Its main attraction, Arki Fort is a now a heritage hotel managed by the ruling family and a lovely place to visit.
The fort was captured by the Gurkhas in 1806. Rana Jagat Singh, the ruler of Baghal, had to take refuge in Nalagarh. From 1806 to 1815, the Gurkha General Amar Singh Thapa holds Arki as his headquarters to make further advances into Himachal Pradesh as far as Kangra.
The Gurkhas were, however, driven out by Rana Jagat Singh assisted by Sir David Ochterlony and the British forces during the Gurkha War in 1815–1816. Thereafter Rana Jagat Singh regained control of Arki.
The Last ruler of Baghal was Raja Rajander Singh (1928–2010) who overhauled the administration and introduced radical constitutional reforms. After independence Raja Rajander Singh also elected to the assembly.