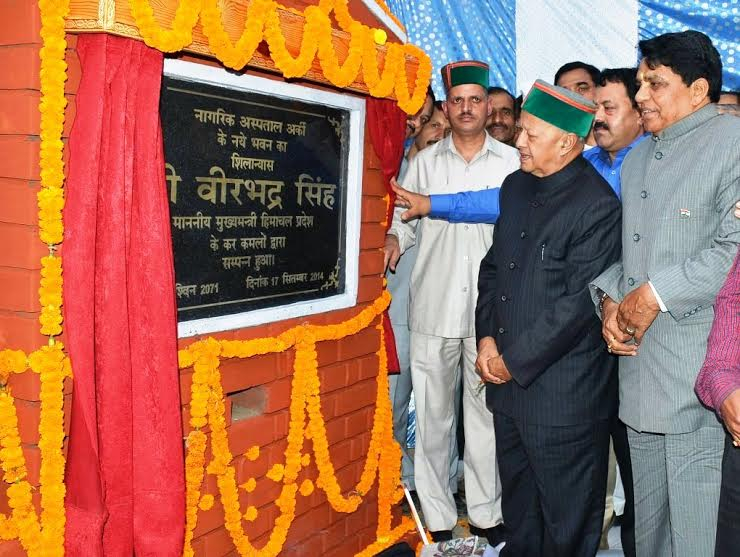 Himachal Pradesh Chief Minister Virbhadra Singh inaugurated the famous district level 'Sair' festival at Arki, which is also known as 'Festival of Bulls', and is also famous for exhibition of rare breed of Buffaloes.
Chief Minister, while addressing the gathering, stated that the fairs and festivals are the real identity of traditions, customs and culture of the state and it required to be preserved as they are inseparable part and parcel of the life of the hill people.
Earlier, the Chief Minister inaugurated Sub-division office cum residence of the Assistant Engineer National Highway constructed at a cost of Rs.45 lakh and also performed the foundation stone laying ceremony of the 50 bedded Civil Hospital Arki to be constructed at a cost of Rs. 8.10 crore. The hospital would be consisiting of the three special wards besides seven OPDs. It will have facilities like CT Scan, X-rays, etc.
Chief Minister also released a souvenir on the occasion brought out by the Mela Committee and inaugurated the exhibitions set up on the occasion by various Govt departments and NGOs showcasing the development activities.
While speaking on the occasion, Col (Dr.) Dhani Ram Shandil, Social Welfare and Empowerment Minister, congratulated the people on the occasion and counted achievements of the Present State Government.
Rajinder Thakur, Member Animal Welfare Board also welcomed the Chief Minister and honoured him and other dignitaries.
Govind Ram local MLA, Prakash Karad, Vice Chairman Small Saving Board, MLA Janeb Chandel, Chairperson, State Women Welfare Commission, Ramesh Chauhan, Vice-Chairman, Khadi Board, Madan Chauhan, Deputy Commissioner, Solan, Ramesh Chajhta, SP Solan and other distinguished guests were present on the occasion.