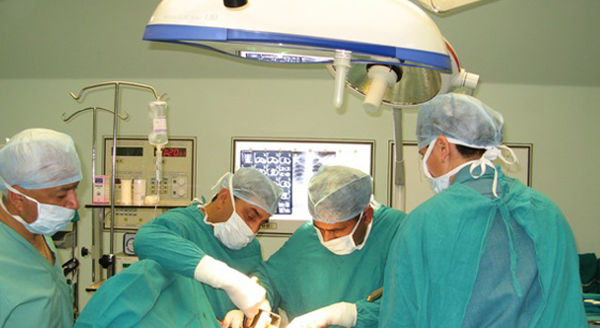 State Government has accorded top priority to the health sector. Special emphasis is being given to develop health infrastructure besides expansion of qualitative health services. Many programmes and schemes have been implemented in this direction during last one and half years. A sum of Rs. 1050 crore is being spent on health sector during current financial year.
Himachal Pradesh is one of the leading States in best health indicators in the country. Initiatives have been taken to ensure modernised facilities, best infrastructural, research facilities and availability of adequate staff. Besides this, health institutions were being upgraded alongwith opening of new health institutions.
A new 100 bedded block is being constructed at a cost of Rs. 16.50 crore in Kamla Nehru Mother and Child Care Hospital, Shimla. Besides this, a similar 100 bedded dedicated Mother and Child Hospital is being set up in Zonal Hospital Mandi with a cost of Rs. 5 crore. The State Government would soon launch drop back ambulance 102 service for facilitating expectant mothers and children upto one year of age. Likewise there is a plan to provide facility of 125 such vehicles in the health institutions of the State.
Three more medical colleges are being set up at Chamba, Hamirpur and Nahan with the financial assistance of Rs. 567 crore from Government of India. Besides, the permission has also been granted by the Government of India to upgrade nursing school of IGMC, Shimla to nursing college. The Central Government has released Rs. 440 lakh out of total Rs. 520.50 lakh for this purpose.
To provide best health services to the people of the State at their door steps, 43 multi speciality surgical camps have been organized in 2013-14 and 3651 patients had been operated freely. Besides this, almost 50 new health institutions have been opened in the State. To ensure adequate staff in these institutions, 48 specialists, 412 medical officers, 7 radiographers, 19 OTA and 150 posts of different categories have been filled up.
Telestroke Management Programme has been launched for the first time in Himachal Pradesh on pilot basis with collaboration of All India Institute of Medical Sciences (AIIMS). Under this programme AIIMS would establish 18 primary stroke centres in the hospitals where the facility of CT Scan is available to identify the symptoms of brain stroke and to provide timely treatment. Training has been given to 120 doctors of the State for the same. Six patients have already been successfully treated under this programme and the success of this programme will pave the path for comprehensive treatment of brain stroke patients in the country.
In order to provide specialized health services to the people living in far flung areas, mobile diagnostic units are being established in 10 districts besides specialized doctors, these mobile medical units will have the facility of ultrasound and all essential life saving drugs. These units will hold camps in the rural areas at fixed schedule. Government will also endeavour to develop tele-medicine facility. Government is committed to provide cheaper generic drugs in the health institutions and Rs. 29.59 crore have been sanctioned for this.
A centralized oxygen plant is being established in IGMC, Shimla. Government is endeavouring to set up MRI facility at identified institution of the State under Public Private Partnership (PPP) mode. Due to the hilly terrain of the State, incidence of accidents were more and in order to provide immediate treatment in these cases advanced trauma centre is being established in IGMC apart from at Nurpur, Rampur and Kullu.
The State Government is making all out efforts to further strengthen the health sector so as to provide specialized health services to the people of the State especially in far flung and remote areas.