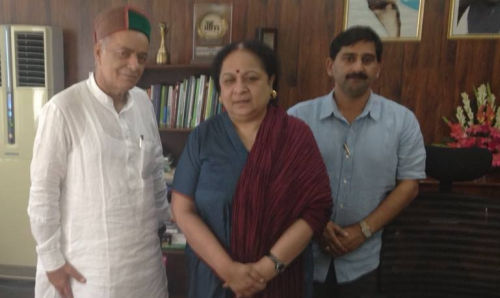 Forest Minister Thakur Singh Bharmauri has asked the Government of India to release its due share of Rs. 325 crore from Compensatory Afforestation Fund Management and Planning Authority (CAMPA) Fund to Himachal Pradesh government.
In a meeting with Union Environment and Forest Minister, Jayanti Natrajan, he said that Rs. 325 crore was to be given to the State in lieu of preserving the forests, but Defense Ministry by mistake deposited it in CAMPA Fund. He informed that a high powered committee of government of India had already recommended handing over of this amount to the State.
Forest Minister requested the Union Minister to provide financial assistance of Rs. 5 crore for removal of lantana grass in the lower parts of the State adding that it was posing threat to natural vegetation and the bio-diversity. He said that State government had formulated a work plan for elimination of lantana grass for which government of India should provide liberal assistance.
Demanding Green Bonus for the State, Bharmauri said that State government had put complete ban on forest felling which was benefiting the entire country. He said that State government was spending from its own resources for preservation of forests and GoI should compensate the State by providing Green Bonus. He also urged for financial assistance to tackle monkey menace in the State.