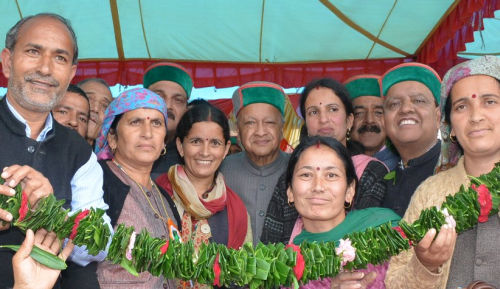 Chief Minister Virbhadra Singh said that the Congress believe in uniform Himachal and One Nation and has ensured equal development of the State.
While speaking at the closing ceremony of the North Zone Volley Ball Competition at Narain in Shimla district, CM stated that Congress led government doesn't discriminate on the basis of Region and Religion.
Virbhadra Singh said that development has no boundaries and Government believes in taking Himachal to Top amongst all Hilly States.
Singh said that India is a Multi-lingual State and has uniform customs and Tradition that makes it a perfect example of Unity in Diversity. However, certain few people create obstacles in the development of the State as well the Country and we need to refrain from them, he quipped.
Chief Minister approved opening of Primary School at Khinucha Village in Gram Panchayat Taklech and announced up-gradation of Government Middle School Kuhal in Gram Panchayat Kuhal and up-gradation of middle school Nalwan in Gram Panchayat Kuthadi, Rohru.
He also announced Veterinary Dispensary for Jarasi and Palzara. He also announced tarring/Metalling of Balti-Dhar–Narain-Sungri road and Bhadrash-Shobri-Brandli road.
Besides announcing Forest Rest house for Narain, he also assured that a survey would be conducted for opening a branch of co-operative bank at Narain.
He also announced Rs 21 lakh for renovation and beautification of Chatarkhand Panchveer Brandli Temple, Rs 1.50 lakh for the Club for organizing the tournament and Rs 30 thousand to school Children of GSSS for performing cultural programme.
Chief Parliamentary Secretary, Nand Lal, Chairman, Kailash Federation, Brij Lal, Vice-Chairman HPSIDC, Atul Sharma, Chairperson, Mahila Congress Rampur, Satya Bhushan, Pradhan GP Bahli Ranjana Bhandari, Local Congress leaders and other senior officers of the district were present on the occasion amongst representatives of the nearby Panchayats.