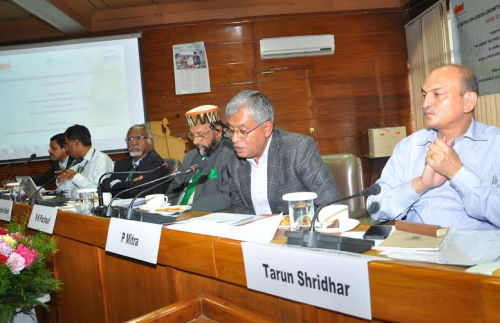 Shimla: Dr. R.K. Pachauri, chairman of The Energy and Resources Institute (TERI) said that an analysis would be conducted to evaluate the steps by which the Indian economy could move towards an inclusive green growth paradigm of development.
He was speaking at workshop on 'Green Growth and Development in Himachal Pradesh' jointly organised by Global Green Growth Institute (GGGI) & TERI in association with Department of Environment Science & Technology (DEST) Himachal Pradesh, here today.
Dr. Pachauri said that the activities proposed for this project would be carried out with due consideration to the federal nature of Indian polity where broad macro-economic directions and strategies were defined keeping in with national priority. He said that the initiative would examine strategies pursued at national level with focus on Himachal Pradesh and Punjab States.
He said that national strategies would be recommended by conducting macro-economic analysis using CGE-MAKAL (Computable General Equilibrium-Market Allocation) frame work. The study would examine options at the State level in biophysical domain (water, crop patterns and land-use, land-cover & forestry), climate change, techno-economic and natural resource management interventions. He said that case study would also be developed to understand State Policy Frameworks for green growth strategies and the study would use a rich mix of analytical tools and stakeholder consultations.
Dr. Pachauri said that this study would be done to explore the possibilities that environment and development go together. He said that India occupies 2.4 per cent of worlds land and supports 16 per cent of world population. He said that India's economic growth had exceeded 7 per cent a year for almost a decade. The high GDP growth has not come without a cost.
Dr. Pachauri said that according to World Bank report, environmental degradation would cost India 80 billion US dollars per year or 5.7 per cent of its gross domestic products. The unsustainable use of natural resources for several generations had resulted in desertification, contamination and depletion through out the sub-continent. This had serious repercussions on the livelihoods of millions who were surviving on natural resources in and already over populated country, he said.
He said that it was a welcome step that Himachal Pradesh was promoting green industrial development as climate change had serious implications in fragile hilly state. He said that Himachal Pradesh has asset of large forest cover. He said that the frequency of disaster like Uttrakhand last year would increase in future. He stressed the need to mitigate Green House Gas emission. He said that roof top solar and hydro energy options should be explored in Himachal Pradesh.
Chief Secretary P. Mitra said that Himachal Pradesh was endowed with natural resources that provide economically valuable environment services for North India. He said that Himachal Pradesh had embarked on the path of green growth and sustainable development in view of its location in fragile Western Himalayan Region. He said that recognizing the scope for fueling growth through its natural assets the State Government has introduced various initiatives designed to enhance environment stewardship. He said that Environment Master Plan (EMP) was adopted in 2013 along-with Comprehensive State Strategy and Action Plan on climate change.
The Chief Secretary said that focus of this programme was directed at promoting climate change adaptation and mitigation, inclusive green growth as well as environmental sustainability, which would be supported by ambitious efforts towards sustainable development across the key engines of economic growth, namely sustainable energy, integrated watershed management, sustainable industrial and sustainable tourism.
Principal Secretary, Environment, Science &Technology Tarun Shridhar in his welcome address said that green growth was recent concept for sustainable development. The western developed countries and oil producing countries developed at the cost of environment degeneration. He said that green growth was not only desirable but also mandatory. He said that Himachal had prepared sustainable tourism policy.
Dr. Pradipto Ghosh and S. Vijay Kumar, Fellows TERI, Dr. S.S. Negi, Director DEST, India Country Head, GGGI Siddarthan Bala discussed policy discussion on green growth and development in the State.
Additional Chief Secretaries, Principal Secretaries, Head of the Departments, Dr. Vijay Thakur, Vice Chancellor, Dr. Y.S. Parmar University of Horticulture and Forestry and senior officers of the State Government and representatives of TERI and GGGI also deliberated on various issues and gave their valuable suggestions.