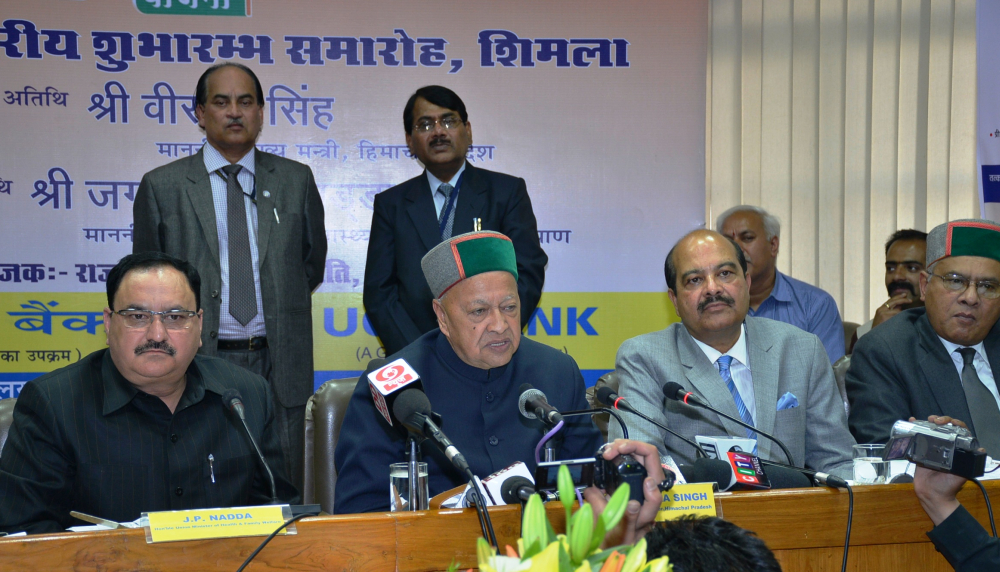 Chief Minister Virbhadra Singh today simultaneously launched Pradhanmantri Suraksha Bima Yojna, Pradhanmantri Jeevan Joyti Yojna and Atal Pension Yojna in the State as Prime Minister Narendar Modi launched these schemes from Calcutta today for 115 cities of the Country.
Union Health Minister J.P Nadda was also present on the occasion.
Speaking on the occasion, the Chief Minister said that these schemes would be effective for achieving target of financial inclusion. He said that effective measures had been adopted for financial inclusion by effective implementation of Jan Dhan Yojna last year. He said that about 8.50 lakh new bank accounts were opened in the State, which had ensured at least one bank account of each household.
Virbhadra Singh said that under the schemes besides insurance to the workers in unorganized sectors, pension would also be provided to them so that they could lead a respectable life.
Union Health Minister J.P Nadda, while speaking on the occasion, said that economic progress was a continuous process though sometimes, it keeps fluctuating due to ups and downs in marketing strategies and few external factors but it was a matter of pride that Indian economy was capable enough to bear such shocks. He said that there were 14.5 crore account holders in January. He said that from villages, households were tapped and today targets were pushed up due to the banking strategies and concentration on unorganized sector.
He said that as per data, the financial inclusion was 8.64 crore in rural areas, 5.84 crores in urban areas. He said that there was a need to bring economic revolution and for achieving the very purpose we have to motivate the people and make them economically strengthened.
He said that it was for the first time that on accidental death insurance of rupees two lakh would be provided on premium of Rs one per month under Suraksha Bima Yojna, thereby leading to economic independence of the people of the State. Under Pradhan Mantri Jeevan Jyoti Yojna also a sum of Rs two lakh would be provided in case of natural death on the premium of Rs 330 per annum, besides, the spouse of the person who dies and beyond that, his son/ daughter would be paid the amount insured.
Both the Chief Minister and Union Health Minister distributed passbooks and necessary certificates to the beneficiaries.
Charan Singh Executive Director, UCO Bank, welcomed the Chief Minister and Union Health Minister on the occasion and said that so far 6.85 lakh people had been enrolled under the Insurance schemes. He said that UCO bank had started online registration facility from today itself
Member of Parliament Virendar Kashyap, MLAs Suresh Bhardwaj and Anirudh Singh, Chairman, HP State Co-operative Bank, Harsh Mahajan, Regional Director Reserve Bank of India, I.S.. Negi, Chief Secretary P. Mitra, Additional Chief Secretary, V.C. Pharka, DGM, UCO Bank, AK Sinha, General Manager UCO Bank V.K. Shrivastva, were also present on the occasion amongst others.