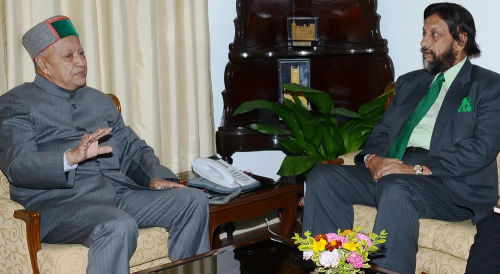 Shimla: Padma Vibhushan, Dr. RK Pachauri, who is also chairman of The Energy Research Institute (TERI) and Director General, International Panel on Climate Change, called upon Chief Minister Virbhadra Singh here today.
Dr. Pachauri presented a book titled 'Gandhi and Environment' analyzing Gandhian environmental thoughts, to the Chief Minister and desired to start a project of Medicinal and Herbal plants in the State on the analogy of Uttarakhand which would fetch adequate returns to the people of the State.
Virbhadra Singh urged Dr. Pachauri to give his valuable inputs for setting up a Planetarium at Anandpur near Shogi in district Shimla which was being set up by the department of Science, Technology & Environment.
Chief Minister said that this would not only help to promote scientific temperament but would also be a source of attraction for tourists. Besides, this would help the stakeholders including farmers to learn about scientific process in the field of agriculture and horticulture.