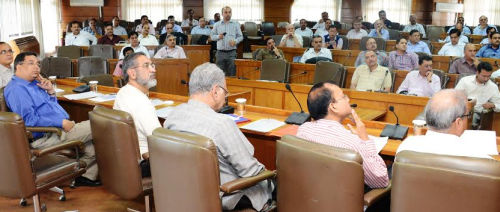 H.P State Disaster Management Authority (HPSDMA) organised a State level advocacy workshop on mainstreaming Disaster Risk Reduction (DRR) and Climate Change Adaption (CCA) in development plans for the policy makers and stakeholders departments under the UNDP programme of government of India was organized here today.
Deepak Sanan, Additional Chief Secretary, Agriculture and Animal Husbandry, while presiding over the workshop, said that both DRR and CCA fields share a common focus on reducing the vulnerability of communities and contributing to sustainable development. He said that high level of climate-related risks in the State make DRR & CCA key policy goals.
Sanan said that mainstreaming DRR & CCA into the development planning process essentially means having a watchful eye on each activity that was being planned. He said
It should be ensured not only from the perspective of reducing vulnerability of that activity from natural hazards and climate change impacts, but also minimizing that activity's potential contribution to hazard specific vulnerability. He said that it was a process where DRR & CCA measures were fully institutionalized into the developmental policy and practiced by the stakeholders at all levels. In the mainstreaming process, disaster risks and climate change impact considerations were mandatorily factored into development activities right from the planning stage in order to achieve sustainability and resilience
The workshop has been planned to orient the government departments and district administration about mainstreaming DRR and CCA into the development planning. It also aims at increasing their level of knowledge and understanding of processes, tools and methodology for integrating DRR and CCA components in the infrastructure, environment and natural and social welfare sectors.
D.C. Rana, Additional Secretary, Home delivered keynote address on the status of disaster preparedness in the State. He also briefed about various initiatives taken by the government to mitigate climate change impacts. He informed that 100 companies of Home Guard would be equipped with Search and Equipment (SAR) equipments for disaster response and the process had already been started in this regard. He said that the process of setting up of state of the art control rooms at the State and District Headquarters was also underway.
Dr. S.S. Negi, Director, Environment, Science and Technology gave presentation on initiatives of the State Government in the field of climate change.
Dr. Arun Sahdeo, National Coordinator, GoI-UNDP, DRR-CCA program, Shirish Sinha, Senior Thematic Advisor, Climate Change & Development Division, Swiss Agency for Development Cooperation, Swiss Embassy, New Delhi, Rajesh Kumar Singh, Director, National Disaster Management Authority, GoI, Dr. Sanjoy K. Bandyopadhyay, Principal Scientist from Indian Agriculture Institute, PUSA, New Delhi, Dr. R.K. Bhandari, Former Executive Director , Central Building Research Institute, Roorkee, Dr. R.K.Sood, Head, Disaster Management Cell, Himachal Pradesh also participated in the workshop.
Deputy Commissioners of various districts, heads of the line departments, Nodal Officers for Disaster Management, officials of SDMA, DDMAs, and representatives from ATI, SIRD, and Technical Institutes were present on the occasion.