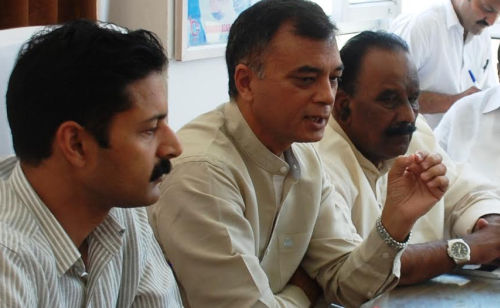 To trace the missing students of Thalot tragedy, Himachal Pradesh government has decided to launch a special search operation tomorrow. In this operation, the water level in Parbati II and Larji projects will be lowered to the minimum possible level for an hour for intensive search of victims in a 3-km stretch downstream the river from the point where they were washed away.
Rural Development and Panchayati Raj Minister Anil Sharma while addressing media persons after presiding over the meeting held at Pandoh Dam complex in Mandi District today to review the search operation revealed that about 450 jawans, including divers and contingents from Army, State Police, Navy, National Disaster Response Force and SSB would participate in this operation.
Sharma said that Chief Minister Virbhadra Singh has taken a serious note of this tragedy and has directed the State Government and District Administration to provide all possible help to all the agencies engaged in this operation.
He said that the Government was constantly in touch with the Telangana Government as well as various rescue teams besides was providing all possible help to the parents of missing students.
Interacting with the media the Home Minister of Telangana N. Narsimha Reddy thanked the Government of Himachal Pradesh was providing all possible help to the effected families. He also appreciated the efforts being made by the Himachal Government in tracing the missing students.
Member of Parliament of Telangana Jitender Reddy and Vinod Kumar, Deputy Commissioner Mandi Divesh Kumar and S.P. Mandi R.S. Negi were also present on the occasion.