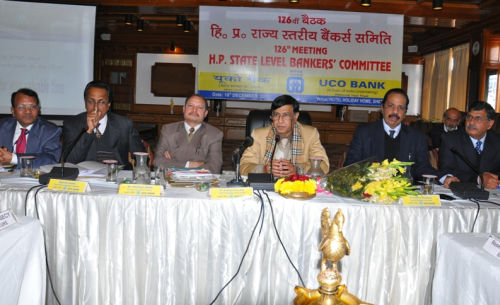 Chief Secretary S. Roy, while addressing the 126th State level Bankers Committee (SLBC) Meeting held in Shimla today, disclosed that banks have achieved the financial targets in terms of disbursement of fresh credit to the tune of Rs. 4472 crores targeted for the half year ended in September, 2012 under Annual Credit Plan-2012-13 and sanctioned 234423 number of fresh loans to various sectors out of which 102164 numbers of loans were given to farmers for agriculture purposes in the State.
He said that deposits of the banks have grown by 19% from Rs. 45046 crores to Rs. 53400 crores till September, 2012. He said that Credit Deposit Ratio also registered 2.57% increase and moved from 67.54% to 69.29% during this period. He said that out of total 10.51 lakh targeted households in the State, banks have provided revolving credit to 9.17 lakh households.
Chief Secretary said that banking network was rapidly growing in the State as 44 new bank branches of various banks were opened during three months period from July to September, 2012. He said that at present 1614 branches were catering to the needs of the people and the State was maintaining best per branch population recorded 4248 based on 2011 Census against national average above 18000. Besides 692 ATMs were installed by banks in the State, he added.
He said that banks in the State have finalized the roadmap for providing banking services in 20016 unbanked villages having population below 2000 under the directives received from RBI to cover all unbanked villages in a period of three years upto March, 2015. He said that under the roadmap, banks have proposed to open 162 new bank branches and 19854 numbers of villages were proposed to cover through Business Correspondent model for providing door step banking services in the State.
B. Venkat Ramana, General Manager, UCO Bank said that banks have issued 16075 fresh Kisan Credit Cards (KCCs) upto September, 2012. He said that banks were now issuing the Repay Kisan Credit Cards-smart cards to facilitate hassle free credit to the farmers. He said that more thrust was to be given by the banks for credit linkages of SHGs to facilitate Credit Inclusion in the State. He said that in order to boost the Micro Finance and Credit Inclusion in the State, a Special Scheme had been launched under the supervision of NABARD for promotion of Women Self help groups in the two backward districts, Sirmour and Mandi in Himachal Pradesh and their Credit linkages with the supporting role of reputed NGOs. Till September 2012, banks have total 63862 SHGs having Credit linkages in the State, he added.
Dr. Shrikant Baldi, Principal Secretary, Finance gave his valuable inputs on various issues. Deepak Sanan, Additional Chief Secretary, Principal Secretaries, Secretaries, Heads of Departments, Naresh Gupta, Chief General Manager, NABARD, Officers of various departments and representatives of banks attended the meeting.