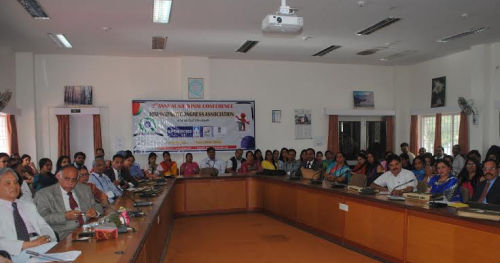 The 2nd annual National Conference of Him Science Congress Association was convened at the Himalayan Forest Research Institute, Conifer Campus, Panthaghati, Shimla of Himachal Pradesh.
About 250 Eminent Academicians, Professors and Scientist of India and abroad are participating in this two days long Conference. The delegates will present their research papers from different field of sciences. The Papers Presenters are from South Korea, IIT Delhi & Roorkee, BHU, Delhi University, Panjab University, Himachal Pradesh University and North- East and Central India etc.
Dr. S.S. Negi inaugurated the conference and Prof Park (Director Science Technology South Korea), Prof Khosala, Dr, Kapoor Dr, Singha, Dr Mattu, Dr. Nagesh Thakur & Dr Hemant Gupta were also present at the conference.
Dr. Negi in his address said that the 2nd Annual National Conference on topic Science: Emerging Scenario & Future Challenges – II reflects our ambitions and outlines our broad approach. Dr. Negi stated
We live in age of science and Technology, scientific inventions and modern day technologies have completely changed the human life. They have given man altogether new look towards every aspect of life. Hence in this age, the study of science is necessity. So a modern curriculum of studies must include the study of Science and technology, because the modern man needs a scientific mind in approaching the problems of life
Science education has assumed great importance in this era of technology and Himachal Pradesh is walking shoulder with the rest of the world by offering state of the art infrastructure facilities and imparting skills so required to churn out world class professionals, Negi further added.
Dr Kapoor emphasis the evidence of rejuvenation of research in Himachal Pradesh and other Indian universities. He said that the Government departments like Space, Atomic Energy and the Council of Scientific and Industrial Research have taken important steps forward to establish academies and build backward linkages with our universities in the last ten years, thus enabling cross-fertilization of ideas.
Prof B.S.Kaith Department of Chemistry NIT Jalandhar and Dr. P.C.Pathnia PAU Ludhiana were awarded for their outstanding performances in their respective of Science. Dr. Deepak Pathnia President of association said that this conference is suppoted and sponsored by DST, GOVT of India, SJVNL, Himachal Tourism and DRDO. He thanks for these organisation for their kind support and cooperation.
Dr. Mahender Thakur, Joint Secretary of association said main objectives of these activates is to aware the students and communities regarding Environmental & Biodiversity conservations and also aware the masses especially students and farmers about use of different Technologies in the field of Agriculture, Horticulture, Health and Education. During inauguration Dr. B.S. Rathore thanks all participating dignitaries and delegates. Executive members of association Dr. Pawan Rana, Dr. Sita Ram, Dr. Sunil, Dr. Kamal Dev, Dr. Susheel Kalia, Dr. Adesh Saini, Dr. Amit Kumar, V.P. Singh and Dr. Atul Pandey among others were present at the ocasion.