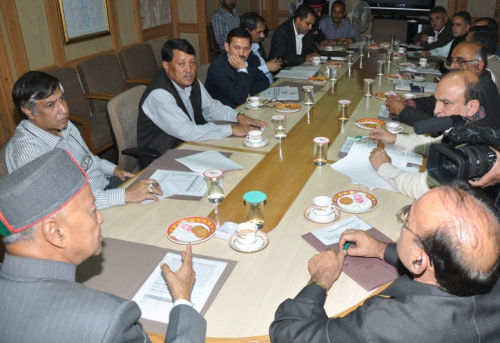 In the State Disaster Management Authority meeting, which was convened to review the losses to the public and private property due to excessive rains, Chief Minister Virbhadra Singh revealed that losses of more than Rs. 2900 crore were occurred to public and private property due to excessive and heavy rains in Himachal Pradesh during current monsoons which was still continuing.
Virbhadra Singh said that because of early onset of monsoon this year, abnormal high rainfall was experienced from 15th to 17th June, which was 576 to 1358 percent above normal as per Indian Metrological Department (IMD) data. The Kinnaur district suffered maximum damage which received 193.5 mm rains on 17th June against normal 0.7 mm for the day coupled with heavy snowfall in upper reaches. District Sirmour received 136.8 mm rains on 17th June against normal 1.8 mm for the day while heavy torrential rains were recorded in various parts of the State since then.
Chief Minister said that the State Government functionaries, Border Road Organization (BRO) and other agencies did commendable work on war footing to bring normalcy in the affected areas of the State. He said that Rs. 129.24 crore had been released under State Disaster Relief Fund (SDRF) for providing immediate relief out of which Rs. 57.57 crore had been provided to Deputy Commissioners and Rs. 71.76 crore to various departments. A memorandum of losses of Rs. 1972 crore had been presented to Government of India and a Central Team also visited the State to assess the damages. Recently, a team of the 14th Finance Commission team also visited the Kinnaur district.
He said that a special relief package was given to the farmers after Cabinet approval for agriculture and horticulture losses from 15 to 17th June in general and especially for Kinnaur district in particular. The senior officers, medical teams and horticulture experts were deployed in the Kinnaur and other affected areas of the State and supply of essential commodities was also ensured to these areas.
Chief Minister said that 43 humans lost their life, maximum 23 in Kinnaur, 7 in Shimla, 5 in Sirmour, 4 in Kangra, 2 in Mandi and 1 each in Chamba and Hamirpur districts due to heavy rains and landslides. He said that 24145 livestock had been reported dead with a loss of Rs. 5.51 crore. Loss of over 200 crores occurred due to damage of 5092 houses/cowsheds/labour sheds.
Virbhadra Singh said that heavy losses had been reported to the agriculture and horticulture sectors in the State. He said that 20,573 hectare agriculture area had been affected with more than 50 per cent crop loss which was Rs. 200.37 crore while major damage to pea and rajmash crop occurred in Kinnaur district. He said that total loss to horticulture crops was Rs. 301.11 crore while 4.51 crores to orchards. Whereas horticulture crops in 81458 hectare area were destroyed with more than 50 per cent loss while major damages to apple crop happened especially in Kinnaur district.
He said that Rs. 1218.71 crore losses were reported to Public Works Department assets and as many as 4377 roads were damaged including 996 kms State Highways, 1564 kms of Major District Roads, 18816 Rural Roads, 42 bridges besides 2250 culverts. A loss of Rs. 40 crore occurred due to damage to National Highway (NH-22) from Wangto to Samdho.
Chief Minister said that loss of Rs. 256.78 crore were reported due to damage of irrigation and water supply schemes in the State. He said that 1527 water supply schemes, 627 irrigation schemes, 22 sewerage schemes were damaged while 84 flood protection works had been affected.
Virbhadra Singh said that total loss of Rs. 472.35 crore occurred to electricity and other infrastructure as extensive damage to distribution infrastructure i.e. Transformers, HT, LT lines, Sub stations and damage to power projects of HPSEB and HPPCL.
He said that loss of over Rs. 165 crore were reported to community assets as Panchayats Bhawans, Community Centres and Village paths etc. and a total loss of Rs. 5 crore was reported in fisheries sectors while trout farm in Shangla was also damaged. He said that that loss of over Rs. 3 crore had been reported to health sector. He directed all the Departments to ensure early relief and restoration of damaged infrastructure.
Health and Revenue Minister Kaul Singh Thakur said that he had taken up the matter of setting National Disaster Relief Force (NDRF) in Himachal Pradesh with GoI keeping in view the vulnerability of State towards various disasters and natural calamities. He said that Union Home Minister had agreed to provide NDRF with full Central funding. He asked the Revenue Authorities to locate appropriate land for setting up NDRF in the State.
Additional Chief Secretaries and Principal Secretaries of concerned departments along-with Project Deepak (BRO) Col. J.S. Sawhny gave detailed account of damages and restoration works being done by their respective departments.
Chief Secretary Sudripta Roy, Additional Chief Secretary Deepak Sanan and Vineet Chawdhry, Principal Secretary to CM V.C. Pharka, Principal Secretary-cum-Finance Commissioner (Revenue) Tarun Shridhar, Principal Secretary PWD Narinder Chauhan, Principal Secretary MPP& Power S.K.B.S. Negi, Special Secretary Revenue & Disaster Management Dr. Amandeep Garg, Engineer-in-Chief, PWD Pradeep Chauhan, ENC IPH R.K. Sharma, Director Agriculture J.C. Rana, Director Horticulture Dr. Gurdev Singh, Director Animal Husbandry Dr. B.S. Kaul, M.D. HPPCL D.K. Sharma, Additional Secretary Revenue Man Singh and other senior officers were present in the meeting.