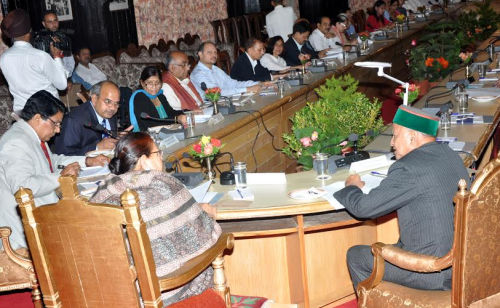 Shimla: Governor Urmila Singh, President of Himachal Pradesh Child Welfare Council, underlined the need to intensify the activities of the Council for the benefit of under-privileged and deserving sections of the society.
She was presiding over the Special meeting of the General House of the Child Welfare Council held at Raj Bhawan here today. Chief Minister Virbhadra Singh was also present in the meeting.
Singh said that there was wide scope for expansion of activities of Child Welfare Council and added that more and more people should associate themselves in order to strengthen the child welfare activities in the State. She said that all out efforts should be made to provide an ideal atmosphere to under-privileged children so that they could grow and develop as responsible citizens
Governor said that liberal assistance was being given to the Council to carry forward its activities. She said that non-official members could play pivotal role in strengthening the centres set up for children by paying frequent visits and suggesting improvements in the prevailing system.
It was proposed by the Governor to give the marginal share from the temple income to the children home and old-age home so as to provide basic infrastructure facilities to such homes.
Addressing the meeting, Virbhadra Singh Chief Minister announced that keeping in view the long pending demand of the employees, 80 employees of the Council would get the amended pay scale as fixed in 2006 from prospective effect. Earlier they were getting the pay scale as fixed in 1986.
Virbhadra Singh said that State Government was committed to the welfare of all sections of the society and added that concrete efforts were needed for expansion of the activities of the Council which included motivating people to participate in the welfare activities besides contributing liberally towards the funds to supplement the efforts of the Government.
Col. (Dr) Dhaniram Shandil, Minister for Social Justice and Empowerment thanked the Chief Minister for fulfilling the demands of the employees and termed the decision as historic. He also detailed about various schemes and activities being implemented by the department. He said that all out efforts were being made to implement the schemes in right earnest so that children could be benefitted.
10 Members including Aparna Negi, Prem Negi, Premlata, Sunaina Sood, Poonam Chauhan, Uma Baldi, Renu Kurien and Ramesh Thakur besides Deputy Commissioners Kangra and Solan were nominated as Members of the Governing Body of the Council.
P.C. Dhiman, Principal Secretary Social Justice and Empowerment, Rajkumari Soni, General Secretary of the Council, Vineet Chaudhry, Additional Chief Secretary, Dr. Shrikant Baldi Principal Secretary Finance, Anita Tegta , Secretary to Governor, Madhubala Sharma, Director Child and Women Development, Sharabh Negi, Director SC, OBC and Minority Affairs, Official and Non-official members of the Council and officers of State Government attended the meeting.