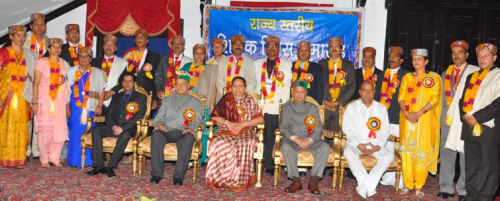 State level Teachers day function was organized at Raj Bhawan today. Governor Urmila Singh presided over the function and Chief Minister Virbhadra Singh was chief guest on the occasion. Governor presented National Awards comprising of a cash prize of Rs 60,000 along-with a set of books and shawl to three teachers besides State Awards comprising of a cash prize of Rs 40,000, silver medal, cap, shawl, a set of books and certificate to 16 teachers on the occasion.
Speaking on the occasion, Urmila Singh stressed upon educating the girl child in order to bring about women empowerment in its true sense in the society. She said that women were the pillars of the society and they should be empowered for building a strong nation. She said that students should be sensitized about this since childhood so that they grow up as aware and responsible citizens.
Urmila Singh said that ideal environment should be created in schools so that every student gets ample opportunity to grow according to his or her interest and ability. Teachers should explore the potential of students and facilitate learning opportunities beyond the classroom for their overall development, she added.
Governor said that teachers were the backbone of the society as they shaped the destiny of pupils and were nation builders in true sense. She said that they influence the minds of students and were looked upon as role models. She said that teachers prepared students for facing the challenges in life and their work was not confined to mere classroom. She said that teachers should inspire students by setting up examples through their good conduct and learning.

She lauded the Guru-Shishya Parampara which uphold the importance of teacher and instilled the values like respect for teacher as well as elders. She said that such rich traditions should be maintained in modern times also.
Governor and Chief Minister paid rich tributes to former President, Philosopher and Educationist Dr S. Radhakrishnan for his valuable contributions towards the cause of education and on whose birth anniversary Teachers Day is celebrated. Governor also released a souvenir on the occasion.
Chief Minister Virbhadra Singh stressed upon strengthening education at primary and elementary levels so that potential of the students could be explored to the maximum at higher education level and their base was strong. He expressed concern over discontinuation of examination system up to Elementary level and added that promoting to next class on the basis of assessment could prove harmful to the students in the long run as it hampered the interest of students in studies. He further said that examinations were essential for evaluating the education standards of students at every level as it was good for both students and teachers.
Virbhadra Singh emphasized the need of instilling moral values besides teaching the importance of patriotism, nationalism, discipline among students so that they grew up as good citizens. He said they should be made aware of our constitution and principles laid in it. He said that during his previous tenure the preamble of Indian constitution was printed and displayed in schools and government offices. He ordered that they should be displayed again in all the educational institutions, libraries and government offices if already not been displayed. The State had achieved cent percent target of enrolment in elementary education and efforts were on to achieve the target of more than 60 percent enrolment in higher education.
He said that presently more than 15,000 educational institutions were functioning in the State in government sector. The State Government had made a provision of Rs. 3836 crore for education sector for current year which was 18 percent of the total budget. He said that Netbooks would be given free of cost to 5,000 meritorious students of 10th and 12th class this year under Rajiv Gandhi Digital Student Yojna. To encourage meritorious students in the State, the Government had taken decision to give cash incentive of Rs. 75,000 to any student of Himachal Pradesh who got admission in prestigious institutions like IITs, IIMs and AIIMs.
Virbhadra Singh said that State Government was providing free travelling facility to all government school students in HRTC buses. He said that sincere efforts were being made to improving the quality of education in the State. The Government had taken decision of rationalization to fill the vacant posts of teachers in far-flung and hard areas of the State. He said that emphasis had been given on imparting training to the teachers. He said that efforts were being made to strengthen the basic infrastructure in the schools and making teaching child centric and activity based.
R.D.Dhiman, Principal Secretary Education welcomed the Governor and Chief Minister and detailed about the activities of the department. Dinkar Burathoki, Director Higher Education proposed vote of thanks.
Forest Minister Thakur Singh Bharmouri, Excise and Taxation Minister Prakash Chaudhry, Chief Parliamentary Secretary Education Neeraj Bharti, Secretary to Governor Anita Tegta, Ashok Sharma Director Elementary Education, Awardee teachers, officers of state government and education department were present among others on the occasion.
List of Awardees:
Pradeep Singh, Lecturer, Mathematics, GSSS (Boys) Una, Nek Ram, Shashtri, GSSS (Girls), Jogindernagar and Devika Rani, CHT GPS, Kinnu, District Una were honoured with National Awards for their outstanding services in the field of education.
The State level Awards were given to Om Prakash Kaistha, Principal, GSSS, Jaidevi, District Mandi, Suresh Kumar Gautam, Headmaster, GHS, Talyahar, District Mandi, Krishan Chand, Lecturer, GSSS, Galore, District Hamirpur, Raj Kumar Kanwar, DPE, GSSS, Mawa Kaholan, District, Una, Ram Krishan, TGT, GSSS, Karsog, District Mandi, Nand Lal Sharma, TGT, GSSS, Gada Kufri, District Shimla, Dr. Manohar Lal Awasthi, TGT, GHS, Menjha, District Kangra, Mohinder Singh, PET, GSSS, Delgi, District Solan, Mela Ram, PET, GSSS(Boys), Solan, Neena Thakur Shastri, GMS, Pukhri, District Chamba, Yugal Kishore Gupta, JBT (CHT), GPS, Chhakoh, District Bilaspur, Krishna Devi, JBT, GPS, Tawan (Balh), District Mandi, Sita Devi, JBT (CHT), GPS, Takrela, District Bilaspur, Chuni Lal Sharma, JBT (CHT), GPS Rampur Bushar, District Shimla and Chandrawati, JBT (CHT), GPS, New Colony Jail Road, Mandi, District Mandi.