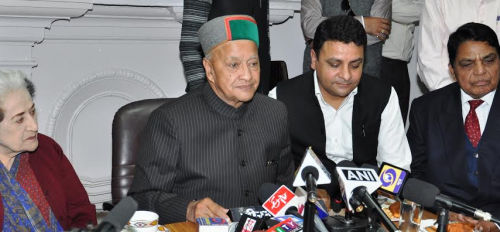 After losing all four seats of Himachal Pradesh to BJP, Chief Minister Virbhadra Singh acknowledged Modi wave in the state.
In a press conference at Shimla, which was convened after the Lok Sabha election result, Virbhadra Singh stated that Congress in Himachal lost to the propaganda created through the aggressive campaign and advertising by the BJP in favour of Modi. He stated that Congress campaign failed to match the BJP and thus couldn't connect to the electorates effectively.
Singh congratulated Narender Modi and BJP for their spectacular show in the General Elections and asked them to fulfill their poll promises made during the election campaign.
Replying on the question of his government stability, Singh clarified that the state government is stable and will complete its tenure. He also ridiculed the BJP demand of resigning from the post on moral ground.
Congress has lost 2014 General Election miserably to the BJP and now an oldest party of the Nation has even failed to get enough number to claim for the leader of opposition post. Congress is failing to reach 50 seats nationwide, it is the lowest tally – which is less than the lowest ever of 114 in 1999.
With the overwhelming response from the electorates, who have given absolute majority to the saffron party, not only Congress, but other Modi distracters have no reason whatsoever to not acknowledge Modi wave.
It's noted that a Narendra Modi wave has catapulted the BJP to power after 10 long years in the opposition with its tally set to more than double from 117 in an election.