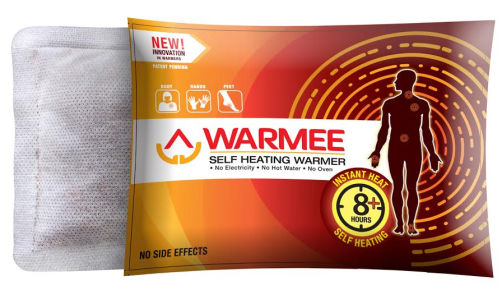 Winters are always a trouble in the outdoors, irrespective of how many clothes you wear. However, Warmee, an India's first heat pack, is all set to become a part of our day-to-day humdrum. Warmee, a product introduced by Pantheon PharmChem (PPC), a Mumbai-based pharma company, promises to bring a change in our attitude towards cold this winter onwards. An innovative heat pack, which shall act as a portable instant heat source for simply keeping warm anytime, anywhere! The indigenously produced product does not require electricity, external heating or warm water.
Using simple science to emanate heat up to 55 degree Celsius, all the pack requires for the user to do is to tear open its packaging, shake it for 15 seconds to activate its warmth and then simply place it in enclosed regions within one's clothing such as jacket, pockets and socks. Within 15 minutes one gets comforted with the heat pack.
Warmee is specifically created with non-toxic and non-combustible ingredients such as vermiculite iron, water and activated carbon. When exposed to air, they activate and start releasing heat. The vermiculite distributes heat evenly through the pack to keep one warm. Evidently, it is the country's first-of-its-kind product.
Understanding the most important aspects of Warmee is its safety of use and hassle-free convenience. This heat pack can continuously produce heat for eight hours without any external source of heating. This only means that the warmth within one's body will work its way from one region to another, thereby keeping one snuggly and comfortable even in the face of rigid cold. Not to miss the one-time use pack is easily disposable.
Being convenient to carry and easy to use, Warmee not only warms very quickly but also is very environmental friendly. It surely qualifies to play multiple roles – like keeping one free from being close to an external heater all the time to do the daily chores. It will make mothers stress free about kids catching cold when kids leave for school as mothers can slip in the heat pack. Two size variations – small and regular, add to the convenience as per the usage. Small packs are not only meant for children but even for adults for slipping in conveniently in the folds of their clothes especially gloves and socks. Warmee is the solution to one's everyday needs.
Commenting on the launch, Marketing Director of Pantheon, Bijal Uchat says, "The little heat packs truly warm up as a portable heater on the go and is an effective solution to the daily challenges in cold. It was a challenge for our research cell to devise a technology that works for the masses and does not cost much. Our market tests have yielded phenomenal results and we've already applied for a patent. We'll be proud if the pack gives the masses the freedom to face winters without hassles!"
Costing just Rs 15/- per piece for a small pack and Rs 25/- per piece for a regular pack, this is a solution to innumerable winter troubles. If manufacturer's all claims comes true, Warmee can be the definite answer against cold that suits every pocket size. With Warmee experience freedom from chills anywhere, anytime.
Warmee is available in Dalhousie, Dharamshala, Hamirour, Kangra, Kullu, Manali, Mandi, Nahan, Palampur, Paprola, Rampur, Sarkaghat, Shimla, Solan and Una. It will be made available in Banikhet, Nalagarh and Sunder Nagar in coming week.