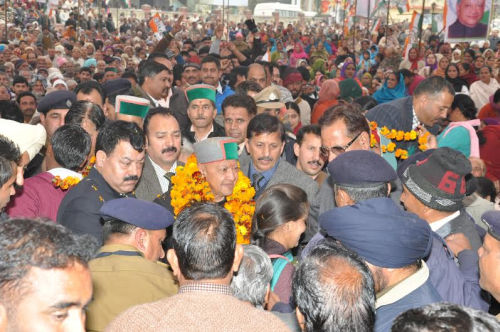 Panjawar/Una: Himachal Pradesh Chief Minister Virbhadra Singh today opted for the public platform to respond to the BJP allegations as while addressing a public meeting at Panjawar in Haroli assembly segment of Una district, he categorically stated that his government would not succumb to any pressure and it was committed to ensure that rule of law prevailed in the State.
After laying foundation stone of Primary Health Centre to be constructed at a cost of Rs. 1.87 lakh, at Panjawar, Singh accused BJP for indulging in a malicious propaganda against him. He stated that he's ready for any inquiry and declared to quit politics for good if even single allegation proved.
The Chief Minister stated that the BJP was personally targeting him on unsubstantial issues and working on pressure tactics to hinder the ongoing investigations in various scams and misdeeds of the previous government but the present Congress government was fully firm to expose the wrong doings and take stern action against those found guilty. He said that government would soon come out with a white paper on all the misdeeds of the previous BJP government and all the scams including illegal land deals would be thoroughly examined and investigated.
Onkar Sharma, Vice Chairman, Agro Packaging, Ranjeet Rana, Haroli Block Congress President, Thakur Singh Bharmouri, Forest Minister, Kuldeep Kumar, Chairman, State Finance Commission, and other prominent persons of the area were also present on the occasion.