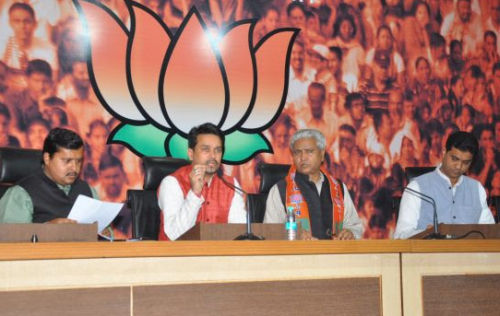 Delhi: Bhartiya Janta Yuva Morcha (BJYM) National President Anurag Thakur in a National Executive meeting in Delhi has decided to come out with a youth policy for 2014 Lok Sabha elections. He said that policy will be based on public opinion.
At the Executive meeting held at BJP Headquarter 11 Ashok Road, it was decided that youth policy will be based on suggestion that the BJYM workers gather from villages, towns and cities across India. This policy will be implemented under the leadership of BJP's PM candidate Narendra Modi when NDA makes the government in 2014.
At the Executive meeting various other decisions were taken regarding programmes that the BJYM would be planning & organizing in the coming months.
One of these programs "School Chale Hum" would be held on the day of Former Prime Minister Atal Bihari Vajpayee Ji's birthday on 25th December. Children belonging to poor families would be given free books, stationery item and school bags across India.
Between December 30th, 2013 to January 10th, 2014, BJYM will hold seminars and group discussions on the issue of internal, External & border security problems.
Further volunteers who have joined BJYM through social media would be invited for 'Yuva Mitra Milan' to engage them in volunteering activities for the BJP.
Between Jan. 17th 2014-Jan. 25th 2014 BJYM will run a voter registration campaign at assembly constituency level throughout the country.
Also starting Jan. 12th 2014 on the occasion of Swami Vivekanand's birthday, BJYM will hold cricket tournament at State, District and Zonal level by the name of "Khelega Yuva, Jeetega Bharat".
National Gen. Secy. (Org.) Ram Lal and National Gen. Secy. and BJYM Incharge Muralidhar Rao were also present in the Executive meeting.