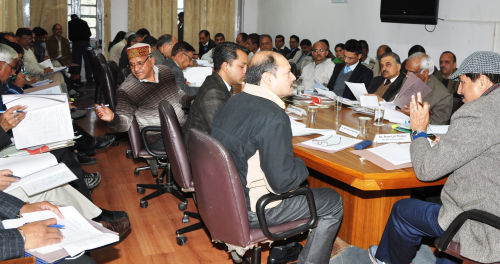 In the Second Quarterly Review Meeting of Annual Plan 2013-14 here today, Ram Lal Thakur, Chairman, State level Planning Development and 20-Point Programme Committee informed that government giving priority to Social Welfare, Transport and Power Sector and working to effectively implement its developmental policies and programmes in right perspective.
In the meeting various flagship schemes of the Government under Annual Plan 2013-14 including externally funded projects and financial and physical progress under 20-Point Programme were reviewed.
Ram Lal Thakur directed the departments to spend the additional funds for the purpose disbursed within stipulated time period. He said that a provision of Rs. 4100 crore had been made for annual plan 2013-14 and 60 percent of the plan outlay had been sanctioned which also include 15 percent additional funds. He hoped that department would ensure hundred percent achievements of physical and financial targets.
Chairman said that the 13th Finance Commission had given Rs. 7888 crore as revenue deficit subsidy whereas 12th Finance Commission had sanctioned Rs. 10,202 crore adding that the State had taken up the matter regarding the financial position of the State with 14th Finance Commission with facts and hoped that the State would get maximum financial assistance.
Ram Lal Thakur asked the departments to speed up the work on developmental projects and complete them in time-bound manner. He directed to effectively implement schemes related to various sectors like education, health, Indira Awas Yojna, Rajiv Awas Yojna, electrification of left out hamlets, poverty alleviation etc. He also stressed upon the departments to expedite the reimbursement of various GoI schemes, Externally Aided Projects (EAP) and Centrally sponsored schemes (CSS).
Principal Secretary, Finance and Planning Dr. Shrikant Baldi detailed abut various flagship schemes being implemented in the State along-with financial and Physical targets, set to be achieved. Amandeep Garg, Advisor Planning conducted the proceedings of the meeting in which various senior officers of various departments were present.