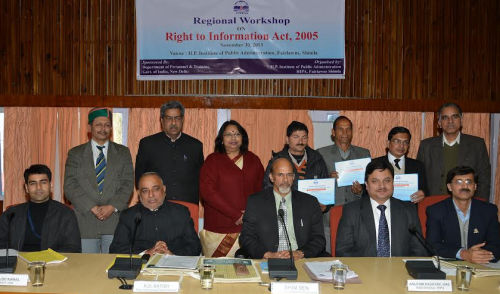 Shimla: A Regional Workshop on Right to Information Act, 2005 was organized by HP Institute of Public Administration, (HIPA) in association with Department of Personnel and Training, Government of India, New Delhi, at Fairlawns today.
Chief Information Commissioner Bhim Sen presided over the workshop. He said that constitution of India had established a democratic Republic which requires an informed citizenry and transparency of information which was vital to its functioning. He said that Judiciary, Executive, Legislature and Press were the present four important pillars of Democracy which helps in strengthening the self-governing set up but with RTI Act, coming to the fore, the involvement of the citizens has increased manifold in the governing set up. Besides, RTI Act is a simple and effective and requires no particular formalities and information is provided within set time period.
Stressing upon the Role of citizens and Public Information Officers, Bhim Sen said that it was too important to implement the Act more effectively.
He said that more than 85% cases which come to commission were found to be of individual interest whereas the remaining cases were of Public Interest. He urged that people should focus more on Public Interest so that the people at Grass root could be facilitated.
The Chief Information Commissioner said that in order to further strengthen the RTI regime at Grass root level and to facilitate the information seekers at their door steps, the HP State Information Commission had taken a decision to hold periodical hearings of complaints and appeals at district and revenue division levels.
He appreciated the initiatives of HIPA for creating awareness through workshops and various programmes organized from time to time, adding that the workshop held here today would provide valuable inputs for effective implementation of the Act. K.D. Batish, State Information Commissioner also gave his suggestions in Panel discussion meets.
Prizes were also distributed for the Best Practices in RTI to Sanjay Sehgal, State Information Commission, Shimla, K Mahesh, Special Director, Training Institute, New Delhi, K.B.Rai, Advisor, Administrative Reforms department Government of Delhi and Nadeem Udeen, Kashipur Uttrakhand. He also gave away certificates for success stories to Bhagat Ram Thakur from Chamba, Ramesh Kumar, from Chamba, Jagat Singh Negi, from district Kinnaur, Dev Ashish Bhattacharya, Noida and Nadeem Udeen, Kashipur, Uttrakhand and Rs five thousand each in both the categories sponsored by Department of Personnel & Training, GoI.
The discussion on success stories, and Panel Discussion on transparency in Government working and suo-moto disclosure- challenges and constraints were also held during the workshop wherein some best success stories in Public Interest under the RTI Act were highlighted. K.B Rai, Director Administrative Reforms, Government of Delhi, Catherine Mathal, from Department of Training, New Delhi, Nadeem Udeen from Kashipur, Uttrakhand and Sanjay Sehgal from HP State Information Commission gave a detailed presentations on implementation of the RTI Act and the best practices.