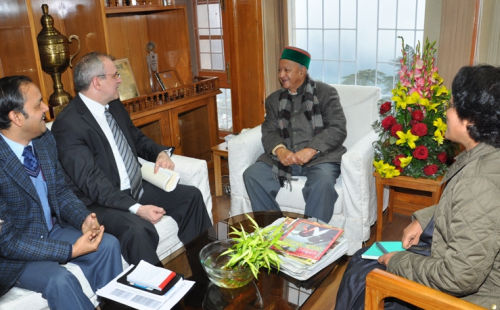 To promote inclusive Green Growth and Sustainable development in Himachal Pradesh, the World Bank and Department of Economic Affairs (DEA) Government of India, had provided assistance of US $ 100 million (Rs. 550 crore) to the State.
A World Bank mission team on Development Policy Loan (DPL) comprising of Charles Cornier and Piyush Dogra met the Chief Minister Virbhadra Singh here today and conveyed him the same. They discussed the progress of DPL funded by the World Bank. The Chief Minister welcomed them and expressed keen interest in implementation of the project. He said that it would help in Green Development in the State through line departments.
Discussions were also held pertaining to 'Clean Technology Fund' where-in the State can get another Rs 500 crore from the World Bank.
Dr. Bharti .S. Sihag, Principal Secretary, Forest and Environment, V.C.Pharka, Principal Secretary to the Chief Minister, Dr. S.S. Negi, Director Deptt of Environment were also present on the occasion.