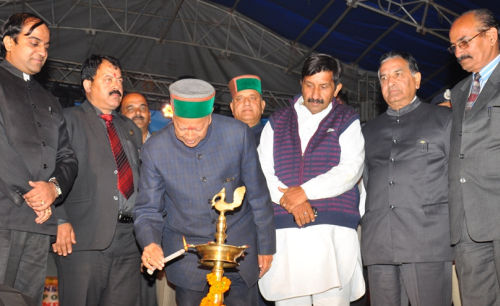 Una: Balanced and uniform development of the State was the prime objective of the present State Government and every effort was being made to make Una a model of development in the State, said Chief Minister Virbhadra Singh, while speaking as a Chief Guest after inaugurating the first cultural night of Sombhadra Mahotasav at Una.
Virbhadra Singh said that credit for making Una a separate district goes to first Chief Minister of the State, late Dr. Y. S. Parmar and since then Una had made rapid strides on all developmental fronts after becoming a district.
He said that fairs and festivals showcase our vivid cultural heritage and helps in strengthening the unity and integrity of the Country. Our Government was giving added priority for conservation of unique cultural heritage and customs of Himachal Pradesh, said he.
Chief Minister said that Sombhadra Mahotasav was the main festival of Una district and people from neighboring States also actively participate in it. He said that the exhibitions set up by various Government departments, Boards, Corporations and NGOs' during the festival, make people aware of various welfare policies and programmes of the State Government.
Virbhadra Singh also released souvenir of the Sombhadra Mahotasav on the occasion. Mukesh Agnihotri, Industries and Information & Public Relations Minister, Kuldeep Kumar, Chairman, 4th Finance Commission and MLA, Virender Dharmani, President, District Congress Committee, Satpal Raizada, Member, HPCC, Rajeev Gautam, Director, KCC Bank, Onkar Sharma Ex-Vice Chairman of Agro Packaging, Abhishek Jain, Deputy Commissioner Una, Anupum Sharma, SP, Una, Senior Officers and prominent persons of the town were present on the occasion.