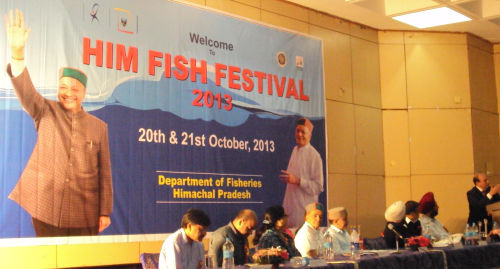 Chandigarh: Forest and Fisheries Minister Thakur Singh Bharmouri inaugurated two day HIM Fish Fair-2013 at Chandigarh today. The fair has been organized by the Department of Fisheries, Himachal Pradesh to promote trout fish and creating more avenues of its marketing.
Bharmouri said that trout fish was one of the most delicious, nutritious and healthy fish available in the hilly areas of the State. He said that efforts were being made for better marketing of trout fish in Chandigarh, Punjab, Haryana besides other States.
Fisheries Minister said that more than 160 farmers were engaged in trout fishing in 370 trout farming units in the State. Besides, farming was also being done by the department. He said that State Government had sanctioned funds for setting up 100 new trout units in private sector. Last year, more than 200 metric tonne trout fish was produced in the State, he added.
Bharmouri said that special efforts were being done for trout farming in Pangi, Lahaul-Spiti and Bharmour tribal areas of the State. He appealed to the hoteliers to include trout dishes in the Menu of their hotels. He also presented cheques of one lakh each to the victims under Fisherman Accidental Insurance Scheme on the occasion.
An exhibition to promote trout farming was also set up by the Department of Fisheries on the occasion. Besides various dishes made from trout fish were also served.
Tarun Shridhar, Principal Secretary, Forest and Fisheries said that the objective of the event was to bring the trout farmers and consumers under one roof for promoting this business. He said that trout fish was rich source of protein and vitamins.
Rajender Rana, MLA, Sujanpur Assembly Constituency, Manmohan Singh, Kohli, President, Chandigarh Hoteliers Association and B.K. Mishra, Managing Director, Fish Capfed, Government of India also spoke on the occasion. Gurcharan Singh, Director of Fisheries, Himachal Pradesh detailed about the activities of the Department.
Rajiv Kaul and Rekha Gupta, representative of Norway, Gurvinder Singh Juneja, Secretary, Chandigarh Hoteliers Association, B.K. Sud, Director, Department of Fisheries, Punjab, Ranjeet Singh Rana, Senior Editor, Information and Public Relations Department, H.P., representatives of Fisheries Department of Jammu and Kashmir and senior officers of H.P. Fisheries Department were also present on the occasion.