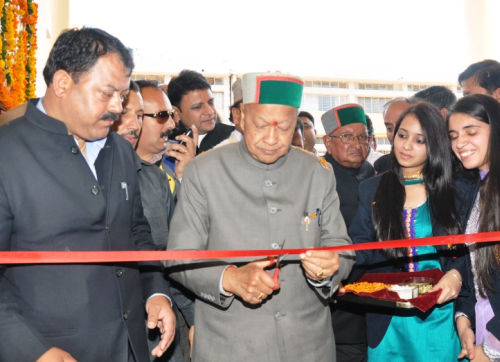 Palampur: Chief Minister Virbhadra Singh inaugurated the Advanced Veterinary Multi Disciplinary Services and Farmers Capacity Building Centre at Dr. J.C. Negi College of Veterinary and Animal Sciences in Chaudhary Sarwan Kumar Himachal Pradesh Krishi Vishvidhalaya, Palampur constructed at a cost of Rs. 11 crore.
Chief Minister said that the aim of the Centre was to empower and provide quality services to the livestock owners of the State, besides creating awareness, so as to cater to the growing health requirements of animals.
Virbhadra Singh said that being State of Art establishment, the Centre would provide immediate diagnosis for various diseases of animals by employing modern diagnostic techniques. It would also provide super specialized therapeutic treatment to the ailing animals and also act as an advanced training and referral unit for updating knowledge of technical personnel, pertaining to prevention, treatment, control and cure of various diseases.
Chief Minister said that Centre had been equipped with Seminar Room for training of Farmers and Veterinary Officers, Ambulatory Service Section, Museum and Dispensing Unit-cum- Drug/Medicine Store. He said that facility of Animal Surgery Units, Computed X-ray, Doppler Ultrasonography, Eco Cardiography, Intensive Care Units, Haemodialysis, Gas Anesthesia, Ophthalmic Surgery Unit, Dental Surgery Unit, Obstetrics Unit, Gynecologic Diagnostic Intervention Lab, Endoscopy and Laparoscopy Unit, Wild life Treatment and Orthopedic Unit had been provided in the Centre. Besides, Toxicology Lab, Advanced Molecular & Micro Biological Lab, Pathology and Necropsy Lab, Semen Lab, Artificial Insemination and Embryo Transfer Technology R&D Lab, Blood Bank and Transfusion Medical Lab had also been set up at the Centre. The aim to set up this Centre was to enhance Animal & Public Health, well being through excellent professional veterinary education, farmers' awareness, public service through clinical care, diagnostic services, life long education and outreach, he added.
He said that one should not abandon the domestic animals as it was against our traditions adding that now, micro chips would be implanted to the cattle with complete information regarding their owners so as to check stray animals. He said that the guilty would be punished suitably. Chief Minister said that one year crash course in veterinary sciences would be conducted for the pharmacists who were recruited last year to improve their efficiency.
Speaker, H.P. Vidhan Sabha B.B.L. Butail welcomed the Chief Minister and said that Virbhadra Singh had always given added priority to the Palampur area.
Agriculture Minister Sujan Singh Pathania said that the State Government was according priority to the agriculture sector and new technologies were being adopted to provide better facilities to the farmers.
Vice Chancellor, Chaudhary Sarwan Kumar Agriculture University Dr. K.K. Katoch detailed about the academic activities of the University and said that two new colleges of this university should be opened at Bajaura in Kullu district and Dhaula Kuana in Sirmaur district.
Prof. Sanjeet Katoch, Dean, Veterinary College proposed the vote of thanks. Urban Development Minister Sudhir Sharma, Chief Parliamentary Secretary Jagjivan Pal, MLAs Sanjay Rattan, Ajay Mahajan and Pawan Kajal, former MP Chander Kumar, Chairman, Kangra Central Cooperative Bank Jagdish Sipahiya, Vice Chairman H.P. Forest Development Corporation Kewal Singh Pathania, Advisor to Chief Minister T.G. Negi, senior officers and prominent persons of the area were present on the occasion.