In a significant development, Himachal Pradesh Chief Minister Sukhvinder Singh Sukhu attended the 8th Governing Council meeting of NITI Aayog in New Delhi, where he made a fervent appeal to the Union Government. The Chief Minister demanded the return of Rs 9,242.60 crore deposited under the New Pension Scheme (NPS) by the State Government and sought intervention in key areas for the state's development.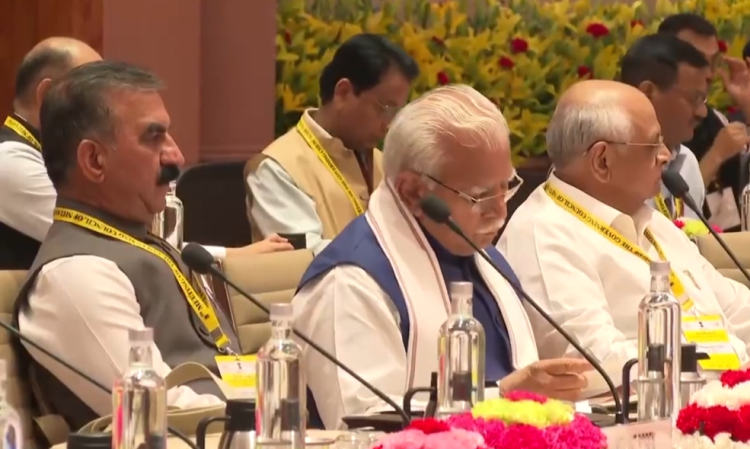 During the meeting chaired by Prime Minister Narendra Modi, Chief Minister Sukhu highlighted the urgent need for the Pension Fund Regulatory and Development Authority (PFRDA) to issue directions regarding the return of the NPS amount. He emphasized the importance of not reducing the previous year's deposit of Rs 1,779 crore under the NPS in the current financial year, while also urging a review of the decision taken on March 27, 2023.
Additionally, Chief Minister Sukhu urged the removal of limitations on external aid received by the state for the next three years. He requested the Centre's intervention in expediting the approval of proposals submitted to the Department of Economic Affairs. The Chief Minister also sought 100 percent central funding for the strategic Bhanupali-Bilaspur-Leh railway line, considering the land acquisition cost as the state's contribution.
Furthermore, the Chief Minister appealed for ropeway projects to be included under the 'Pradhan Mantri Grameen Sadak Yojana' and called for special financial assistance to complete the construction of medical colleges in the state.
Highlighting the state's commitment to green initiatives, Chief Minister Sukhu emphasized the promotion of Green Hydrogen and announced the upcoming launch of the Rs. 2000 crore World Bank-aided project, the 'Himachal Pradesh Power Sector Development Programme'. He expressed the state's intention to create 40,000 direct and 50,000 indirect employment opportunities, along with efforts to attract an investment of approximately twenty thousand crore in various sectors during the current financial year.