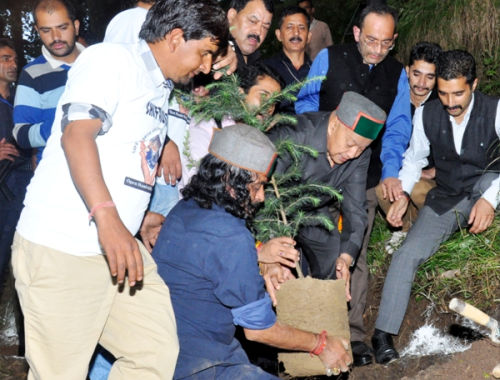 Chief Minister Virbhadra Singh planted a sapling of 'Deodar' tree (Cedrus deodara) at Five Bench, Jakhu in Shimla on the occasion of launching of tree plantation drive organized by the NGO 'Open Hands Welfare Society' today.
Virbhadra Singh lauded the efforts of Open Hands Welfare Society and said that such drives would help in making Shimla greener. He said that nature had bestowed Himachal Pradesh with pristine natural beauty and rich environment. He said that such initiatives strengthen the Government efforts in making the plantation campaign a success. He said that forests not only maintain ecology but also provide us fresh oxygen. He said that Congress Governments had taken many steps not only to preserve but also to enhance the forest cover in the State.
Chief Minister said that today he had planted third sapling during current rainy season as earlier he had inaugurated the State level 'Van Mahotsav' at Shamlaghat near Ghanahati Shimla then he had planted a sapling of 'Lal Burans' (Rhododenron Arbrateum) at Jakhu in Shimla under tree plantation drive of Municipal Corporation Shimla. He said that apart from Government, Civic Bodies, NGOs and common people should plant trees during rainy season and ensure their survival.
Mayor, Municipal Corporation, Shimla Sanjay Chauhan apprised Chief Minister that more than 11,000 saplings of various varieties had been planted by the MC Shimla during this season itself.
President, Open Hands Welfare Society, Gautam Sharma told that his organization aim to plant about hundred trees of Deodar and Baan (Quercur) today at Five Bench area.
Commissioner MC Shimla Amarjeet Singh, ASP Shimla Soumya, SDM (Urban) G.C. Negi, DFO MC Shimla Anish Sharma, Chief Advisor Open Hands Welfare Society Boby Sharma, Chief Auditor Joginder Thakur, Members Deepa, Sonu Verma and others members of Society also planted trees at Five Bench on the occasion.