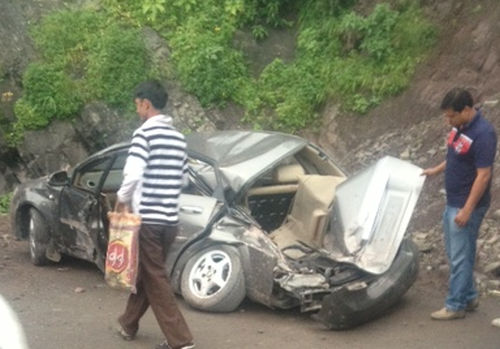 In a strange turn of events a big boulder fell on an ill fated car near Timber Trail at Parwanoo in district Solan today evening. As visible in picture, car was damaged heavily, but luckily both the passengers miraculously escaped any major injuries. The boulder was very big and it managed to veer the vehicle off its destined track. Back side of the vehicle was completely damaged and both its tyres were twisted the opposite direction.
Passerby and people from other vehicles helped to remove the boulder and car from the main road so that it could open for the vehicles. A big traffic jam was witnessed after the accident where hundreds of vehicle were stranded both sides and caused inconveniences to travelers.
This is not the first time when such an accident has happened near Parwanoo, even in 2011 a 11-year-old boy, Damanpreet was killed when a big boulder rolled down a car. He was traveling with his parents and unfortunately was sitting on the front seat of the Ford Icon.