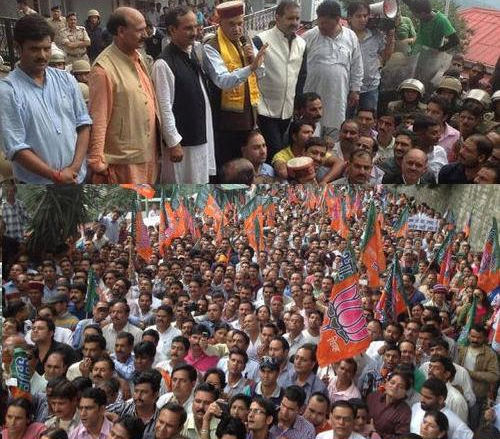 Himachal Pradesh BJP holds a state-level protest rally at Ambedkar Chowk in Chaura Maidan, Shimla, where its leaders asked party workers up their arms against the political victimisation by the Virbhadra regime.
Addressing party workers, former Chief Minister Prem Kumar Dhumal accused Virbhadra Singh registering false cases against BJP leaders, workers and their relatives and also suspending elected BJP panchayati raj representatives. Dhumal advised Congress for fulfilling promises made to the people in its election manifesto. Dhumal also accused Govt for transferring thousands for state employee on political considerations. He stated that the Govt was unconcerned about the plight of the common man who is suffering due to price rise and corruption.
BJP leader also defended the HP Cricket Association and accused Congress for targeting HPCA on political front. Dhumal claimed that his Govt had followed all necessary norms while allotting land to HPCA for luxury hotel and it had also obtained the NOC from the panchayat.
Senior BJP leader also accused government for launching a misinformation campaign with regard to phone tapping. He asked government and investigating agency to take action against anyone found guilty, but warned to desist from naming anyone without any facts for being responsible for it.
Later party legislators, office-bearers and workers led by former Chief Minister Prem Kumar Dhumal and state BJP chief Satpal Singh Satti marched to the Vidhan Sabha to lodge their protest. The workers tried to push their way across the barricades but were prevented by the police.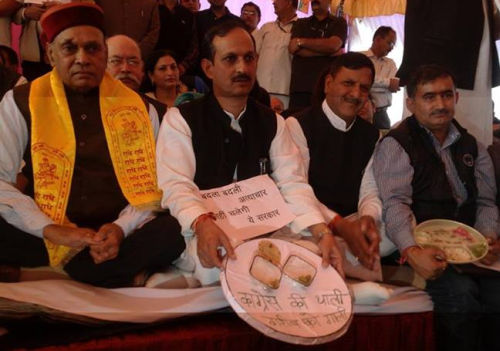 Party state president Satpal Satti also addressed party workers and accused Congress led Govt for unleashing "Goonda Raj" where petty politicians were threatening officials and elected representatives. Senior party leaders Virender Kashyap, MP, former ministers Gulab Singh Thakur, Ravinder Singh Ravi, Jai Ram Thakur, Mahender Singh, Rajeev Bindal, Shraveen Chaudhray, former MP Suresh Chandel and other party MLAs and office-bearers with thousands of party workers participated in the demonstration.