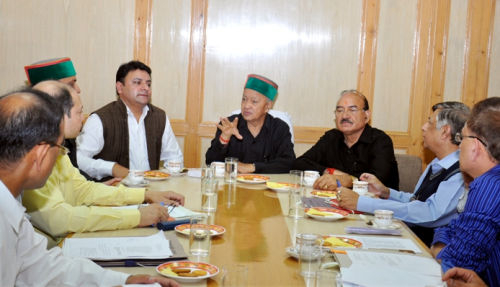 To decongest Indira Gandhi Medical College and Hospital (IGMC) Shimla, Hiamchal Pradesh government has decided to shift Dental College Shimla and Nursing College to Gharog near Ghanahatti. In a high-level meeting Chief Minister Virbhadra Singh said it and he is also hoping to provide best medical care facilities to the patients and other visitors in this campus.
Chief Minister said that more than five thousand patients, attendants and other visitors daily come to IGMC, which was presently over-crowded and thus shifting out some wings was the only option. He said that a dental wing would continue to remain in IGMC to provide emergency care.
Virbhadra Singh said that around Rs. 100 crore new hundred bedded hospital comprising both dental and nursing colleges would be constructed at Gharog to cater to the need of patients of nearby areas adding that additional accommodation like hostels and residential accommodation for Medical and Paramedical staff would also be constructed there.
Chief Minister said that a new multi-storeyed OPD block with parking facilities for four hundred vehicles, dedicated to IGMC hospital only, would be constructed right from Cart Road till Lakkar Bazar road. Besides, OPD, Trauma Centre, Causality, minor Operation Theatre and rooms for Medical Specialists would also be constructed on which about Rs. 50 crores would be spent. Apart from staircases, this block would also be provided with elevator facility. He said that old blocks of present OPD would be demolished after the construction of new OPD building to provide more open space.
Virbhadra Singh said that the Kamla Nehru Hospital (KNH) would be developed as full-fledged Mother & Child Hospital. A new block having capacity of hundred beds alongwith parking of hundred vehicles would be constructed at KNH besides deploying additional specialist doctors so that the hospital caters efficient services to the patients and other visitors.
Chief Minister said that Deen Dayal Upadhaya Hospital (DDU) would also be developed as City Hospital with adequate parking and other facilities. He directed the PWD and Architects to plan accordingly and ensure quality work for all new medical hospitals keeping in view the requirement of future needs.
Virbhadra Singh added that a Super Specialty Hospital would be set up in private sector. He directed the Deputy Commissioner, Shimla to identify the suitable land for the same so that better health care facilities be provided to people of the State.
Chief Minister said that adequate Specialists Medical Officers should be deputed in Rampur hospital which was not only catering to the medical needs of Rampur region but also Anni, Nirmand, Karsog, Kinnaur and Spiti areas. This would help in reducing the influx of patients coming to IGMC Shimla from above areas.
Health Minister Kaul Singh Thakur said that efforts were being done to fill vacant posts of Specialists, Doctors and other paramedical staff so as to provide best medical facilities to the people in the State. He said that many posts of Medical Officers and other staff remained vacant during previous Government regime, which caused inconvenience to the people.
Urban Development Minister Sudhir Sharma said that with the shifting of Dental and Nursing Colleges and construction of new OPD block the people visiting IGMC would get best facilities. He said that efforts were being done to construct new parking slots in Shimla to decongest road side parking. Chief Parliamentary Secretary Nand Lal thanked the Chief Minister for providing Specialists and other Medical staff in Rampur hospital.
Deputy Commissioner Shimla Dinesh Malhotra apprised the Chief Minister that site selection committee under his chairmanship had visited many sites nearby Shimla to identify suitable land to decongest the IGMC campus. He said the committee has recommended Gharog where sufficient Government land was available for setting of such type of institution within 10 kms radius of Shimla town.
Chief Secretary Sudripta Roy, Advisor to Chief Minister T.G. Negi, Principal Secretary to Chief Minister V.C. Pharka, Principal Secretary Finance Dr. Shrikant Baldi, Principal Secretary Health Ali Raza Rizvi, Secretary Urban Development K. Sanjay Murthi, E-in-C PWD Pradeep Chauhan, Director Health Dr. Kulbhushan Sood, Principal IGMC Dr. S.S. Kaushal, Director Medical Education Dr. Jaishree Sharma, Principal Dental College Dr, R.P. Luthra, Senior Medical Superintendent IGMC Dr. Ramesh Chand, Senior Architect N.K. Negi and senior officers of health and other departments were also present on the occasion.