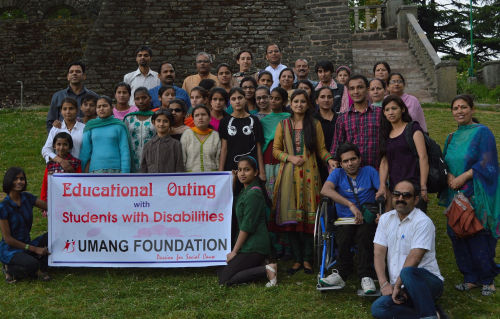 "What if they can not see, hear and speak or walk like others? They have right to education, empowerment and participation in every sphere of life. Their human rights must be respected by one and all." With this motto in mind, Umang Foundation, a Shimla based public welfare trust, organised an educational outing for the girl students with disabilities to the state museum, Rashtrapati Niwas and the Indian Institute of Advanced Study.
Akshay Kumar, a wheel chair user and pursuing Ph.D. in English from Himachal Pradesh University who lead the Foundation's incursion programme said, "Our objective is to sensitize people about the issues related to disability." One severely disabled student Jahan Ara studying in Govt. school Boilueganj, 11 hearing impaired and 9 visually impaired girls of local Portmore Government School had fun and learning experience during the tour. They are supported by the Foundation not only in study but in their complete development. The young members of the Umang Foundation became their new friends.
While visiting the State Museum, visually impaired girls touched the ancient statues to feel of the shape. The hearing impaired girls tried to understand the things through sign language in the museum. Gagan Khanna from the museum explained them about the ancient artifacts and importance of their preservation. The dolls gallery and magic mirror attracted the deaf girls very much. While visiting the Rashtrapati Niwas, they were excited to know that 125 years old palatial building was the first one to have power supply in the northern India. They were also surprised when Khemraj from the Indian Institute of Advance Study told them that this building had one of the oldest water harvesting systems in the country.
Muskan, a blind, said,
"We can't see, but it should not be the reason for our exclusion. Thanks to Umang Foundation, today we came to know many new things about the history of our state."
Kanika, a hearing disabled, said through the sign language interpreter Maya Ram Sharma, "We are lucky that such excursion is organized for us. After all we are also children and have the same feelings and aspirations like other children."
It was a good opportunity for the disabled students as while enjoying leisure time, they learnt many new things. Ajai Srivastava, chairman of the Foundation and an expert of disability rights, made them aware of their rights and said the only way to their empowerment is quality education. He said Umang Foundation would ensure that no injustice was done to them at any level. Veea Bharti, a young IPS officer while interacting with the disabled girls, said, "You should never think that you are inferior. Your confidence level should always be high. Persons with disabilities, particularly girls, are excelling in the field of their choice and the day is not far when people will salute your abilities."
Dr. Ramesh Chand, senior medical superintendent said that disability could occur to anybody anytime and it has been the part and parcel of the society since time immemorial. Anuj Srivastava, a young IT entrepreneur, assured them to support through information technology in meeting their educational needs. Students of H.P. University and colleges with other members of the Foundation had a day full of fun and learning with the disabled students.
The youth team of Umang Foundation including Surender Kumar, Sarita Verma, Arpana Negi, Guddi Rani, Kusum Verma, Sunny Bodh, Simmi Rawat, Deepika Sharma, Anjana, Neha, Meenakshi, Balbir Singh, Raj Kumari, Susheel Kaul, Indu Thapa, Devina Sharma, along with general secretary of the foundation Yashwant Rai and Trustee Bimla Thakur and many others were present in the programme.